Review: Voices of Wind Collection by Soundiron
PROS
6 Singers with multiple articulations per singer
Quick Load times because of lossless compression
Key Specific phrases with genre description and BPM
8 FX presets for fast and easy post processing inspiration
Vocal control with Swell, Attack, Offset, Release, Vibrato and Autopan
Fortissimo and Pianissimo Articulations are available to curate your specific sound
Ensemble patch with 6 Mics. 1 per singer and singer to stage placement ability
Library contains: Legato, Staccato, Sustains, Phrases and FX treated vocals and breaths
CONS
No phrase builder for "staccato" articulations
Higher play range can sound synthetic (reverb tweaking will correct)
Rapid Staccato play is inconsistent across articulations (Lower BPM or Phrases recommended)
If you listen carefully the wind is blowing and it's saying, "Add me to your template!"
Jump to the Videos of Voices of Wind Collection by Soundiron
Jump to the Demos of Voices of Wind Collection by Soundiron
Review: Voices of Wind Collection by Soundiron
Introducing Soundiron's Voices of Wind the collection. The amalgamation of their highly popular and extremely deep vocal series. This collection comes packed with multiple singers, phrases, genres, Fortissimo and Pianissimo articulations, and a tirade of functions, effects, and even an ensemble patch.
Voices of Wind Collection normally sells for $249 from Soundiron
Thoughts
This review will highlight the center points of this collection and what makes it a must-have for music makers of all genres.
Let's start off with the singers. Each one brings their own sonic flair and body of sound to the performance. Examples can be found in each of their phrase banks which are genre and bpm titled for easy recognition and playability. Here are my impressions of each singer and what they would be best suited for.
Adey can be used the most fluidly as her performances can cover bright and cheerful to somber and melancholic. In my opinion, her patch is the most dynamic as it can cover many genres and moods.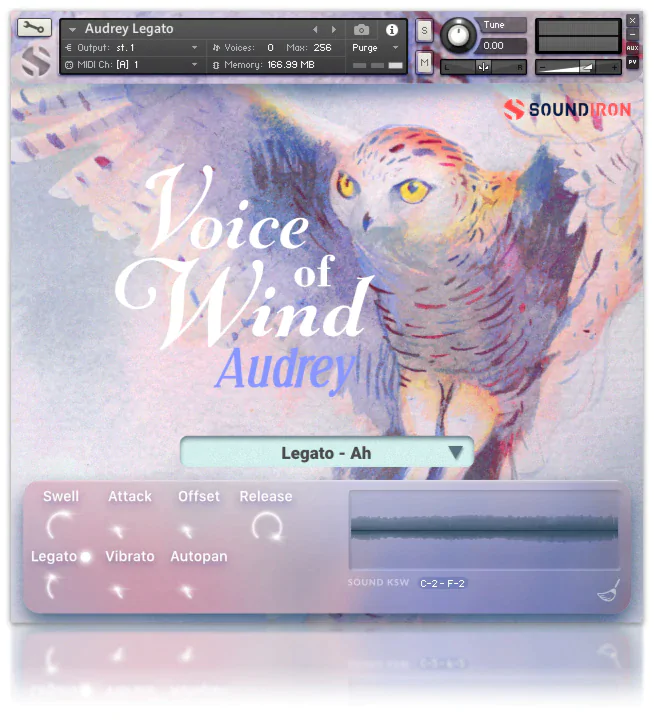 Audrey is best used to evoke a classical dramatic story. Her sound is bold and operatic. You can use this to change the emotion of a passage in seconds. It's also fantastic for fans of the spaghetti western genre.
Connie brings a pop/jazz improv feel to her performance. She gives composers a chance to step away from traditional scoring and add some rhythm and beat to the music. She's a mid-range instrument all the way and blends very well behind winds and strings.
Kimba absolutely knocks her patches out of the park. The rich phonetic textures and balanced harmony make this a unique and special patch. It's great for those looking to merge their music with poignant evocative vocals expressed in the style of aural history.
Julianna is a newcomer to the collection and captures that Mediterranean feel with extensive vibrato and low to mid-range warmth. Her sound can vary from nasally and tight to open and breathy. Her instrument will cover your Gladiator/Hans Zimmer cravings and sits very well behind various underscores.
Phoebe is another newcomer to the collection and brings her own set of dynamism with western vocals fused with a European twist. Her range will cover a grab bag of styles. Precision choices in different styles will be the way to go with her instrument. It's easily blended but may not suit every genre like Adey's.
Let's take a look at functionality specifically the Legato, Staccato, Offset and Stretch. The legato performances and transition control are superb. It's fluid and connective from note to note. No phasing, no abrupt changes in vocal clarity or performance volume. My only critique is that the higher registers can sound synthetic even though they are not. This comes from our own inexperience of hearing these frequencies consistently. My advice is to apply the onboard delay and reverb at a modest setting and then your ears will separate the frequency noise and the performance. The attack and swell feature are also great for those who don't utilize expression and volume in their DAW, however, the attack does not give you a great deal of control entering a cue (not a huge deal).
The staccato performances in this library are crisp, vibrant, and sonically clear. The articulations comprise a select group of Fortissimo and Pianissimo recordings that give composers a tremendous amount of emotional and sonic control. My only critique is that rapid play above 95BPM will sound washed out and synthetic unless the Offset function is adjusted.
The Offset function is one dial that can make or break your midi track depending on what you're doing. Simple adjustments to the offset will bring the articulations to the forefront by increasing the attack of the sample being played. This works exceedingly well using the staccato F and P articulations. It will also allow you to use specific portions of the phrases to essentially increase the number of passages you can write.
Lastly, let's look at the Stretch function. This function is only available for use with select FX and phrase sections of the libraries. This function allows you to adjust the time of the sample being played. There are three parameters: Natural, Sync, and Variable. Natural will trigger the samples' original recorded BPM. Sync will adapt to your DAWs project tempo and Variable will let you stretch the sample from 75 -200. Keep in mind that time stretching a vocal sample specifically with extensive vibrato or textured phonetics will sound choppy and synthetic. My advice is to stay as natural as possible and compose the phrases to the BPM shown as much as possible. If you need a different BPM be sure to adjust the attack, offset, release and legato to smooth it out and attack to fade in your cues.
A bonus feature in this collection is the Ensemble patch. It combines the legato performances of each singer on one stage. Here you can utilize the vowel sustains and stage to curate a perfect choir performance. (HUGE THUMBS UP)
In summation, this library packs in a ton of excellent content. It makes writing for vocals across genres easy, fast, and fun. The diversity in style is evident and the pristine sample quality is second to none. Voices of Wind exemplifies Soundiron's continued investment in sampling, sound design, and composer-friendly tools. It's already made it into my template and I know it will make it into yours.
Facts
Vowel Sustains, Staccatos, Vocal SFX, and True Legato from 6 female vocalists
Live Phrases sorted by Mood and Root Note with a powerful Phrase Sequencer
176 powerful NKI instrument banks in Kontakt 6 Player format
4 Master Ensemble presets with individual singer controls and X/Y Pad Mixer
24-bit, 48 kHz Stereo Lossless NCW Format
12.3 GB Installed
20,235 stereo samples in locked .ncw format
Made for the free Kontakt Player (version 6+), Komplete Kontrol, all S-Series Keyboards, and NKS software and hardware by Native Instruments
Works with the Kontakt "Libraries" browser and Native Access
Voices of Wind Collection normally sells for $249 from Soundiron
Demos of Voices of Wind Collection by Soundiron
Videos of Voices of Wind Collection by Soundiron
Contributor Nick Rivera reviews Voices of Wind Collection by Soundiron
"If you listen carefully the wind is often blowing and it's saying, "Add me to your template!"