Review: Vintage Horns 2 from Big Fish Audio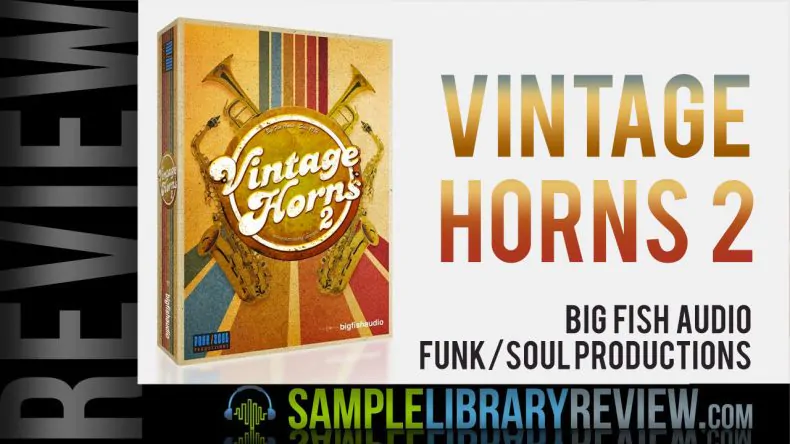 Vintage Horns 2 is a simple library, yet easily brings performances to life with a great sample set. It's well-thought articulation, you can tell the developer put a significant amount of work that went into sampling the instruments for this library and it shows.
Jump to the Demos of  Vintage Horns 2 from Big Fish Audio
Jump to the Videos of  Vintage Horns 2 from Big Fish Audio
Review: Vintage Horns 2 from Big Fish Audio
With Vintage Horns 2, Big Fish Audio & FunkSoul Productions deliverers a really solid follow-up to the first volume. This time around we find Volume 2 focusing more squarely on 60's Jazz, 70's Soundtrack, Film Noir and some great and previously underrepresented instruments from the 60s and 70s.
Vintage Horns 2 sells for $199.00 from Big Fish Audio
Thoughts
The first installment of Vintage Horns had more of a focus on the funkier side of the vintage horn sound with more of an emphasis on funk and rhythm and blues outfits. In the follow-up we find a set of 15 instrument patches that are more clearly focused on some of the iconic sounds of 60s jazz, film noir, 70s movie soundtracks and some of the more underrepresented instruments in the sample world like the piccolo trumpet featured on the Beatles Sgt. Pepper album. The rest of the instruments cover a virtual who's who of modern jazz from Miles Davis to Stan Getz to Zoot Sims and Freddie Hubbard. Lest you think that this is only trumpets and saxophones, we have the iconic 60's Detroit soul piccolo and even a bass flute that is as much reminiscent of  70's film soundtracks as it is Eric Dolphy and Rahsaan Roland Kirk.
The library is very tightly focused on the articulations specific to the playing style that the patch represents and is one of the things that I appreciate about it. This is not a one-size-fits all representation of each of these instruments, but rather a very precise set of samples that serve a very specific need.
The manual for Vintage Horns 2 provides really good documentation on keyswitches used for each of the instrument patches along with a brief description of the inspiration for each of the patches that include either the style of music or the specific musicians that they are inspired by. This was clearly curated by someone who has a deep love and appreciation for the music and playing styles of the musicians and genres that the library represents.
The library interface itself is very simple and straightforward. It is one single page with all of the controls in one place.
After doing a play-through on each of the patches, I was really pleased with the overall sound of the patches as delivered. You have the control to be able to do a number of things to modify your sound using the interface controls which to some degree reminds me of the controls on a guitar amplifier. It probably has to do with the fact that there are such a limited number of them, but they do exactly what you need to them to do.
You have control for Reverb which gives you access to dialing in the level you want and the choice via a drop-down menu for 10 different IRs for different famous recording spaces. Tape Saturation allows you to dial in the amount of vintage tape effect that you want in your sound. While I typically do not like to use effects within libraries and choose to use premium plug-ins for mixing, I like the effect that this one has on the overall sound for feeding it into the final mix. Bass and Treble allow you to tweak the amount of each as with your ADSR controls directly underneath. While the sound of the patches is quite exceptional in its delivered form, you can still take and tweak it pretty radically with a couple of simple controls.
Vintage Horns 2 is definitely one of the more simplified libraries that I have reviewed in some time. That being said, it is also one of the more enjoyable, given my love of jazz.
One of the things that really makes this sound so appealing to me is the focus on specific articulations, whether that be the sustains, staccatos, swells, stabs, fall-offs, scoops, doits, or flutter tongues. They are all recorded to bring to life a unique sound for a classic instrument or artist from days gone by.
I mentioned the Sgt. Pepper trumpet, but inside you will also find open and muted trumpets that immediately brings to mind Miles Davis, whether it is his late 50s sound or anywhere through the 1960s. The dry martini film noir saxophone that sounds equally at home in the movies or reminiscent of Paul Desmond with Dave Brubeck. Retro R & B alto and tenor saxophones that pay homage to James Brown's horn section and even some vintage instruments that have found themselves making a comeback in the '00s like the bass saxophone and the bass trombone.
I found all of these instruments to be extremely playable and extremely musical.
Whether you are using this to score a piece for a soundtrack or are keyboard player that needs to write horn parts, you will find a convincing set of vintage instruments in Vintage Horns 2 that is more than up to the challenge. I was a little apprehensive when I saw that the size of the library was only 2 GB, but realizing that through sample compression and the fact that this is a very specific set of articulations, that allayed my concern. The only criticism that I can render here is that for a very specific purpose-built library, some may find the price tag just a shade on the high side. I would go so far as to try to justify that by saying that there is a significant amount of work that went into sampling the instruments for this library and it shows in the finished product.
As always, please check out the audio and video demos with the links provided below to make sure that this is the right tool for your unique needs.
Facts
Vintage Horns 2 downloads and installs at 1.95 GB and supports either Native Instruments Kontakt Player a full Native Instruments Kontakt 5.6.8 or higher license.
Vintage Horns 2 sells for $199.00 from Big Fish Audio
Demos of Vintage Horns 2 from Big Fish Audio
Videos of Vintage Horns 2 from Big Fish Audio