Review: Miroire by Orchestral Tools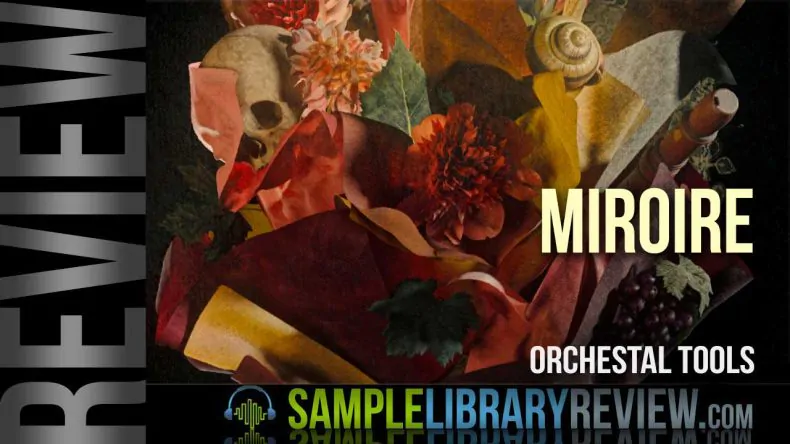 PROS
Beautiful, authentic sound
Many articulations and mic positions
Great included presets
Really unique and modern sampling approach
Intuitive, Well-Designed SINE Player
CONS
No harpsichord, organ, percussion
Some minor room noise with Oboe da caccia
No syllable control with choir
No legatos for horns and trumpets
Miroire is a fantastic collection of period instruments and voices that delivers exactly what it promises. The library features an impressive Baroque sound straight out of the 18th century that is as authentic as it is beautiful.
Jump to the Videos of Miroire by Orchestral Tools
Jump to the Demos of Miroire by Orchestral Tools
Review: Miroire by Orchestral Tools
Orchestral Tools' Miroire is focused on re-creating Baroque era music with a modern sampling approach. The library includes a ton of great period instruments, inspiring presets and mic positions to help any composer achieve that early music style. Simply an amazing library that is the ultimate composer toolkit for any historical fantasy film, videogame, or series.
Miroire normally sells for €399.00 from Orchestral Tools
Thoughts
Miroire is a rich, sampled collection of instruments and voices that faithfully reflect Baroque-era music but with a modern approach. The library is split into 5 separate sections that are comprised of strings, woodwinds, brass, basso continuo, as well as a lovely chamber choir. This typical early music line-up is an excellent starting point for any production looking for that historic sound.
For some context, Baroque music is characterized by its intricate counterpoint, figured bass, heavy ornamentation, and smaller ensemble size. It is typified by composers like Bach, Vivaldi, Monteverdi, Corelli, and Scarlatti, among many others. The era served as the basis for expanded orchestral composition became the groundwork for any symphonic works that followed.
At just under 33 GB of content, the immense level of detail and thought that was put into this library is very apparent. Its large set of articulations, microphone positions and custom presets, help make the library a superb toolkit that is unmatched in the industry. By delving into the different individual sections and instruments, users will immediately notice the amazing 'Inspirational Combinations' which are curated pre-sets to jump-start your creativity.
As the name suggests, these full ensemble patches are perfect for fast inspiration and feature a tailor-made mix to help get started. They also give composers a good snapshot of everything Miroire has to offer while simultaneously showing its capabilities.
In the Baroque era, the strings were the heartbeat of the orchestra and served as the main focus for the majority of works from this time. Miroire's two string ensembles are divided into a 4-person violin section and a 3-person viola section. Sonically, both are quite different from their contemporary counterparts and have a much more strident tone. Undoubtedly, this is due to the recording of era-appropriate instruments with gut strings and period bows in conjunction with incredibly experienced musicians. This gives the strings a very raw and emotional sound that screams 'Baroque'.
The strings construction makes their range smaller versus modern violins and the developer opted to record only two dynamic levels that are regarded as the 'sweet spot' of the instrument. The large articulation set consists of two types of legato, a variety of shorts as well as a few different ornamentation performances. The bow change legato works well with slower, evocative passages while the fingered legato was designed to perform faster phrases smoothly. The extra portato-legato patches are another convenient articulation that is well adept for quick runs or repetitive figures that require a bit more grit.
Additional patches like the soft sustains are another nice option that are suitable for quieter moments. Users should keep in mind that Miroire's strings do not make use of any vibrato, in hopes of remaining historically accurate, as this was common practice throughout the 18th century. To compensate, the developer was able to capture some built-in phrasing for the longer articulations which give the notes interest and emotion. On the whole, Miroire's violins and violas offer a very stirring performance with a wonderful, raw timbre that is straight out of a time gone by.
The basso continuo is one of the key elements of the Baroque period and is arguably the most important part of the ensemble of this time. It acts as the driving harmonic force and the reliable foundation for which the rest of the music rests. Naturally, Miroire recorded a complete basso continuo section which is comprised of two cellos, bassoon and contrabass for a deep and rich sound. This fullness is perhaps no more apparent than in the low-end of the ensemble which would rival any modern orchestra bass section. Like with the chamber choir, the smaller section benefits from featuring fewer performers which makes the tone much more penetrating and intense.
Recording this as an ensemble was a smart move and it should have no problems cutting through a denser track. Like with the string sections, the basso continuo also contains a similarly large assortment of articulations made up of short and long notes. It's exceptional playability which can handle slow, serious parts well in addition to more active phrases. Easily one of the true highlights of the library and one of the most vital parts of Baroque music.
In Baroque music, woodwinds were often used to support the strings by supplying extra color, flourishes, and movement to otherwise monotonous parts. Overall, the woodwinds in Miroire are exquisite and feature wonderful, natural samples of several period instruments. These are the Baroque Flute and Oboe, Oboe d amore, Oboe da caccia and Alto Recorder.
Even though many of these share the same family, it is useful to have several iterations available since their timbre is so dissimilar. These older instruments produce a raw, intimate and expressive tone. While some of these period winds can be a bit more cumbersome to perform in real-life, the libraries' playability is well adept at handling both short quick passages in addition to longer, more evocative phrases.
The recorders in particular are a great addition and immediately beckon that ornate, Baroque music approach. If there is one very minor gripe, the Oboe da caccia can be a bit noisy in the low end. Though, this can be fixed with some quick EQ and will likely be addressed in an upcoming update.
The brass section features four individual instruments with a more refined and regal sound. In Baroque music, brass was traditionally used to fill out the orchestration by providing the harmonic support to the higher voices. With this, Orchestral Tools was able to capture that particular playing style by recording historically accurate valveless horns and trumpets which rely on the harmonic series. In turn, the result is a clear, powerful brass sound with a large dynamic range that is perfect for fanfares, oratorios, overtures or anything in between.
Like the woodwinds and strings, the brass is also quite playable and includes several useful articulations and ornaments for fast runs, repetitive figures, or arpeggios. The developer also included two separate instruments for each to help composers build their own brass section. Conversely, there are no legato patches for the horns and trumpets which is a minor omission though not a major issue since lyrical and melodic bras lines in Baroque music are exceedingly rare.
All in all, the brass perfectly re-creates that older, 'court brass' sound, and tailoring your writing to mimic this distinctive musical style will certainly help achieve a more realistic-sounding mockup.
Last but not least is the breathtaking chamber choir which is hauntingly beautiful and a definite stand-out. These smaller sections really fit the style well and bring a whole new dimension to the table versus traditionally sampled libraries. They were recorded with world-class performers who specialize in period music and their musicianship clearly shines through.
The choir is split into two separate sections, men's and women's, and encompass several articulations including legato, sustains, syllables short, syllables marcato as well as syllables long. The sustains feature a vowel-transition patch with 'ooo's to ah's' which really enhance their interest and realism much like a real vocal ensemble. The syllable patches are available in longs, marcatos for more emphatic parts, and shorts which are quite 'tight' making them ideal for faster sequences. The time-aligned shorts are edited to have the cleaner attack and decay which should help composers match their performance to the rhythmic grid. For new SINE users, don't miss the tempo box on the top of the player to easily change the BPM to match your project. Depending on your specific track, tempo and phrase, it is useful to have all of these options available. Without a doubt, the vocals feature a stunning sound that should help users reproduce that beautiful, liturgical sound that we are so familiar with in early music.
In terms of mixing, Miroire was recorded at the famed Teldex scoring stage which gives the library a beautiful rich tone that should also blend well with other Orchestral Tools libraries. Like with many of the newer Orchestral Tools' libraries, Miroire is SINE compatible meaning users can take advantage of the innovative sample player features like the customizable keyswitching, detailed sample control, mic merge feature, download manager as well as the articulation list and mixer pages.
The Mixer page includes all of the separate mic positions, including AB, close, surround, tree, to help composers dial in their desired sound. Many patches actually include a total of 6 or more unique mic positions which gives users a ton of control and audio mixing options. The merge function is another really helpful tool that can combine multiple mic positions into a single audio channel to help reduce system resources. For new SINE users, it is highly recommended to watch all of the top-notch walkthrough videos that demonstrate the powerful sample engine features as well as a helpful quick-start guide. Also, it is always a good idea to verify that you have the latest version of the player which was recently given a major update.
With a definite resurgence of period dramas as of late, Miroire's timing could not be better and it serves as the perfect answer to any project in need of that sound from a 'bygone era'. Whether it's the intimate strings, evocative woodwinds, majestic brass, or haunting choir, the library is sure to give composers all they need to realize their mockup. Most instruments contain a variety of articulations to fit any need as well as ornamentations which are quite useful when trying to convey that era-appropriate musical style. The 'Inspirational Combinations' are an excellent starting point and just a taste of what Miroire has to offer.
One wish would be to include some additional string, keyboard, and percussion instruments that were not in this package. Instruments like lute, harpsichord, organ or timpani would be welcomed additions to a possible future expansion down the line. That said, don't miss out on OT's brilliant 'Berlin Harpsichords' and the Baroque timpani from 'Berlin Percussion' which are the perfect companion libraries. The organ patches across 'Metropolis Ark 2', 'Berlin Orchestra Inspire 2' and the recent 'Tallinn', are also quite nice and should do the trick.
It should be noted that every single patch from the collection can also be purchased independently directly from the SINE player starting from as little as £35. This is invaluable for users who would like to try out the library beforehand or simply need a specific instrument not available elsewhere.
While the library is obviously designed for period music, its high-quality samples, atypical instrumentation, and exceptional musicianship make it quite adaptable for any project in need of some new and exciting colors. This level of expression and quality is unmatched and should instantly transport listeners into the world of early music. In all, Miroire is a truly special offering and 'no-brainer' for any composers in need of that early music aesthetic for their next period drama series, fantasy video-game or historical film project.
For a better idea of the libraries' overall character, be sure to take a listen to the excellent company demos as well as the full video walk-through. There is also a very informative 'track breakdown', from composer David Kudell, that gives a detailed explanation of how he used Miroire to score his theme from "Mystic Mirror". It is a terrific way to learn more about the library and see it in action!
Facts
Miroire: Period Instruments and Voices is a 32.92 GB download and is split across 5 sections including Violins, Violas, Woodwinds, Brass and Choir. It requires the free SINE Player which can be downloaded at OrchestralTools.com and used in standalone mode or as a plug-in inside your sequencer.
Miroire: Period Instruments and Voices sells for €399.00 from Orchestral Tools
Miroire normally sells for €399.00 from Orchestral Tools
Demos of Miroire by Orchestral Tools
Videos of Miroire by Orchestral Tools
Contributor BenG reviews Miroire by Orchestral Tools
"Miroire is a fantastic collection of period instruments and voices that delivers on exactly what it promises and features an impressive, Baroque sound straight out of the 18th century that is as authentic as it is beautiful."