Review Evolution Strawberry Kontakt Player Edition Electric Guitar from Orange Tree Samples
"The magic of Evolution Strawberry is that it easily transforms midi into credible guitar performances with a vast variety of authentic sounding amp models and some of the best stomp box effects I have heard in kontakt."
See all Reviews and News of Orange Tree Sample Libraries
Jump to the Demos of Evolution Strawberry
Jump to the Videos of Evolution Strawberry
Evolution Strawberry Kontakt Player Edition
Evolution Strawberry Kontakt Player Edition sells for $179.00 (USD) from Orange Tree Samples
Thoughts
If you have seen any of my posts you know I love the sound of the Evloution series guitar libraries from Orange Tree Samples. As a guitar player and working composer I prefer to work in mdi so that I can adjust and edit tempo and time signature to adjust scores when I receive a new picture edits on a deadline with no time to re-track live guitar. The Evolution Starwberry solves that problem with style.
The tone of this electric guitar library is clean and sampled dry so it can be effected and shaped into a huge variety of tones from super clean, to shimmery 80's, dub to hard rock and metal.
I am usually not a fan of using developers effects in kontakt but the quality of the stomp box emulations and amp modeling in Strawberry are top-notch so I didn't see any need to use another effects plug on the channel.
The attention to detail and scripting make this virtual instrument come alive. I'm not sure if it is the pick modeling or the scripting that adds that live playing feel to the instrument, but I managed to get great performances on the first take without having to go back in and tweak out a load of cc's to mask the instruments weakness's like I have with other guitar libraries in the past.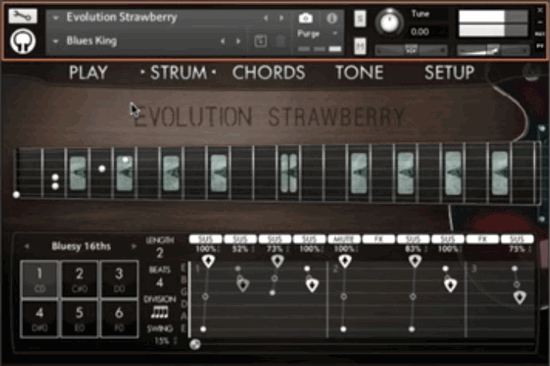 Although the GUI is beautiful and I love the animated fretboard interaction, I did have a little learning curve trying to figure out the strumming feature. In my opinion it isn't as intuitive as the rest of the instrument. I had to go watch the official walkthrough video a couple times to see I needed to select something on on of the other panels to get the strum feature to work. That said once it was going I was blown away by the realism of the strum presets after I got it figured out.
Evolution Strawberry sells for $179.00 and I am comfortable saying it is one of the best versatile electric guitar libraries on the market.
You'll notice in my video I didn't do a patch walkthrough, that i because I found a few videos online that did that wonderfully see the official Walkthrough video or Bob Heatlie Evolution Electric Guitar-Strawberry video
Facts
Evolution Strawberry is an electric guitar virtual instrument for both the FREE and Full version of Native Instruments Kontakt.
The samples of the instrument were recorded dry and make up 1.6 GB of compressed NCW covering articulations such as palm muting, squeals, tapping, strumming, The instrument plays back with 4x round robin.
The Strum engine somes with dozens of patterns, presets and the instrument alows for the use of alternating keyswitchs for up/ down strumming while holding chords.
Evolution Strawberry  uses physically modeled, pick modeling and comes with built-in effects with virtual stompboxes and amp/cab modeling.
– Individually sampled strings, powered by a performance modeled string/fret selection engine.
– Strum keys as well as complete strumming patterns.
– Bridge, bridge+neck, and neck pickup positions.
– Instant double, triple, and quadruple tracking.
– Legato articulations, including slides.
– Alternate tunings and guitar capo.
For more info visit  Orange Tree Samples
Official "Ambient Tones Demos of Evolution Strawberry
VstBase Evolution Strawberry Demos
Official Videos of Evolution Strawberry
Bob Heatlie Evolution Electric Guitar-Strawberry video