Review: Altier Series Anthem Choir by Musical Sampling
PROS
Great unique sounding anthemic choir
Includes versatile legato, ensemble and body percussion instruments
Clear and easy to use GUI
Great use of spaces to give the vocals contrast
Have you ever written an ace anthem with infectious drums, loud guitar riffs and thought to yourself, "What could be the cherry on the top?"  It's anthemic vocals, of course!
Enter boutique developer Musical Sampling with their Anthemic Choir from the Atelier series. This is the world's first legato anthemic choir for your pop, rock, and anthemic needs.
Jump to the Videos of Atelier Series Anthem Choir by Musical Sampling
Jump to the Demos of Atelier Series Anthem Choir by Musical Sampling
Review: Atelier Series Anthem Choir by Musical Sampling
Musical Sampling has, time after time, made awesome instruments. My two personal favourites are my go-to heavy drum kit, Codename: Medusa, and the gorgeous PLCK. The idea behind Anthem Choir is simple yet highly recommended for any media or library composer.
The premise is a group of 18 women and 18 men creating a mix and match anthemic choir where you control the melody. There are two types of velocity-based attack, normal and "whoa". In addition, there are choir sustains and some of the most stunning choral vocals which take ethereal to the next level. Finally, there is a great body percussion section where stomps, clicks, and claps are the order of the day. Everything you need for a stomp clap extravaganza. Throw in various recording spaces such as a studio or a church, and you have yourself a tidy little package that has a number of uses.
Atelier Series Anthem Choir normally sells for $119 from Musical Sampling
Thoughts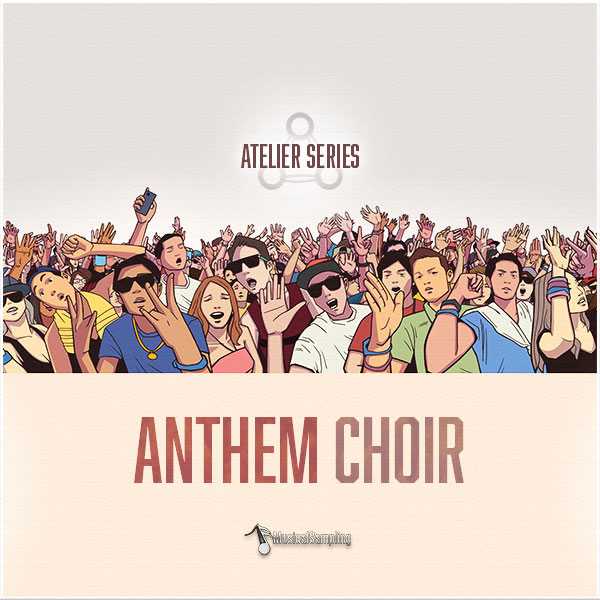 The Atelier series is all about experimentation and concept. Musical Sampling create and share these smaller instruments which may otherwise never see the light of day. While not shoehorning them into a larger package, we get a collection of more imaginative instruments from the Atelier series.
Anthem Choir is one such instrument and I can think of at least three applications: stomp clap music, indie/pop/rock anthemic music and some gorgeous vocal choral music. Already this represents great value for money, but the proof is in the sound.
So how does it sound? Well, it sounds brilliant. Crisp, bright and clear, which allows the composer to fit the vocals into any project
So how does it sound? Well, it sounds brilliant. Crisp, bright and clear, which allows the composer to fit the vocals into any project. The 18 singer ensembles have perfect tuning and intonation and, believe me, I checked every single note. Often there may be a wobble here and there or even a rogue cough, but the sampling is pristine. With such a great sample bass, the instrument itself is clear in design and an all round class act.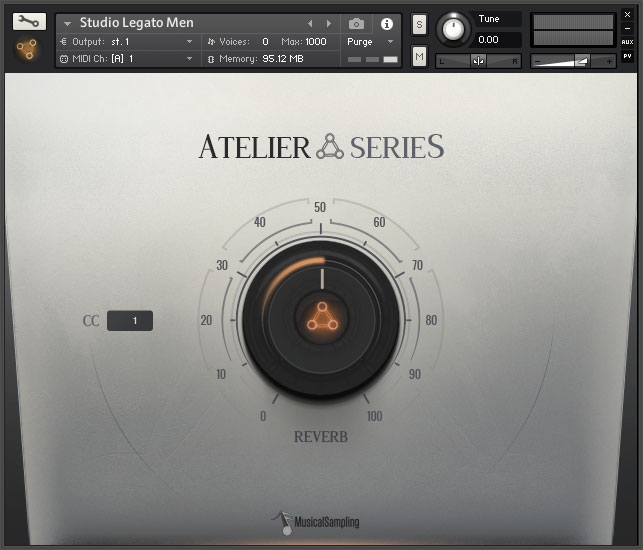 There is no clutter, no unnecessary controls or effects, just one huge reverb knob in the middle and that is your lot. Essentially, this is a really quick plug-in and play instrument that sounds great out of the box and is easy to slide into any project. The legato comes in one speed: natural, and this is no hindrance. It means you have a great, natural-sounding choir that is incredibly easy to use.
Whether you program your melodies or play them in, I found the legato to be responsive, snappy and it triggered exactly when I wanted it to, every time. When using sustain patches, the modwheel controlled the dynamics perfectly and some of the sounds that were created were just heavenly. There is also a handy option to change the midi cc assignment so you can map this to any controller you wish. So GUI-wise, the instrument is straightforward.
So let's talk instruments for a moment.
The legato options for both men and women are great. I am a sucker for a great church reverb so I felt at home writing with these. When it came to inserting this into a project, I preferred the studio option as it is much drier and easier to mix. Both are great and the impulse responses for the rooms are spot on. When played as solo instruments without instrumental backing, sometimes I felt the lack of articulations made the vocal lines sound too similar. When put into the mix, they give that classic anthemic energy and any thought of a lack of articulation is long gone. You feel like the choir is in the studio with you and you get that quintessential sing-along sound! Quite an amazing feat to put into a virtual instrument.
The sustains found me writing in the church setting as well, and I eventually stayed here. I love how the voices blend perfectly with one another, be it harmony, unison or octaves apart. With the use of the modwheel to control the dynamics, it was easy to achieve warm vocal beds with the ability to ramp up the intensity when desired.
The stand-out instruments for me were the Mural Keyswitch Men and Women settings. Straight away, they are jaw-droppingly beautiful. An incredible, heavenly choir that just oozes cinematic ambience. In my underscore and crime tracks, these will be a mainstay. Simply quite brilliant!
The final instrument is the body percussion. I felt it had enough weight and snap to it that it could easily be used as a rhythmical accompaniment to an acapella piece. Equally, when used alongside a full kit, it is punchy, weighty, and can easily cut through the mix. For stomp and clap music, this is perfect and there are a couple more body sounds thrown in too. It's a great addition to round off a great composing vocal toolkit.
I have to admit, Anthem Choir fills an anthemic-sized hole in my composing palette with such great ease. It's a brilliant little instrument that would be perfect for anyone who wants to branch out into anthemic vocal style music. Yes, it is a very niche library but it fits perfectly into the Atelier theme of experimental, quirky, and different. Why buy more of the same when you can get something truly unique and exceptionally awesome? Anthem Choir ticks all of my boxes and Musical Sampling has done a great job sharing this with the world!
Facts
Atelier Series Anthem Choir downloads as 1.3 GB. Samples were performed by 18 Women & 18 Men and was recorded in 48khz / 24bit.
The library is a legato choir instrument that will work well for Pop/Rock & Anthemic Genres
Anthem Choir requires full retail version of Kontakt 5.8.1 or higher.
Atelier Series Anthem Choir normally sells for $119 from Musical Sampling
Demos of Atelier Series Anthem Choir by Musical Sampling
Contributor Pete Checkley reviews Altier Series Anthem Choir by Musical Sampling
"Have you ever written an ace anthem with infectious drums, loud guitar riffs and though to yourself, "What could be the cherry on the top?" It's anthemic vocals, of course! Enter boutique developer Musical Sampling with their Anthemic Choir from the Atelier series of awesome instruments. This is the world's first legato anthemic choir for your pop, rock and anthemic needs.."