Review: Nucleus by Audio Imperia
PROS
*SPOILER* The best and most complete All-In-One orchestral library
Total playability and versatility
AUDIO IMPERIA WOODWINDS AND CHOIR!
That Legato…
Outstanding consistency throughout the entire library
Very light on disk and RAM
FREE Kontakt 6 Player!
Appealing and user-friendly GUI but with all the necessary flexibility in the advanced tab
CONS
The sound design makes me want more!
Audio Imperia's Nucleus: the new king of comprehensive Orchestral library?
Jump to the Videos of Nucleus by Audio Imperia
Jump to the Demos of Nucleus by Audio Imperia
Review: Nucleus by Audio Imperia
Nucleus is the new all-encompassing orchestral library by developer Audio Imperia.
Will it bring home the first prize for best All-in-One library?
Read on to find out!
Nucleus sells for $449.00 from Audio Imperia
Thoughts
I should start my review with the canonic info such as "the library downloads via Continuata and installs at about 20 GB" but let me get that out of the way and allow me to just say:
WOW! Nucleus is THE real deal.
I might be slightly biased when I put my hands on a All-in-One library, partially because I think that you should avoid as much as you can the GAS (Gear Acquisition Syndrome) and make your music great by honing your skills first and, secondly, because I love those "little gems" of libraries that sound astounding out of the box while being super playable without requiring a spaceship of a computer to run.
Before even opening the library you can tell that Audio Imperia did a great job in squeezing all that was humanly possible in just 20 gigabytes of space and succeeded in delivering the most complete orchestral library while taking up a very limited amount of disk space.
Nucleus delivers the orchestra in all of its forms: full ensembles, instrument ensembles, soloists, pre-orchestrated ensembles with all the most important articulations… and some sound design goodies.
If you are familiar with Audio Imperia, the first big news is that this library will work with the FREE Kontakt 6 player which is totally great for beginners who do not want to invest on the FULL Kontakt or the pro user who has not made the move to Kontakt 6 yet. For those who are used to K5, do not worry, the installation and authorization is smooth and everything feels like home.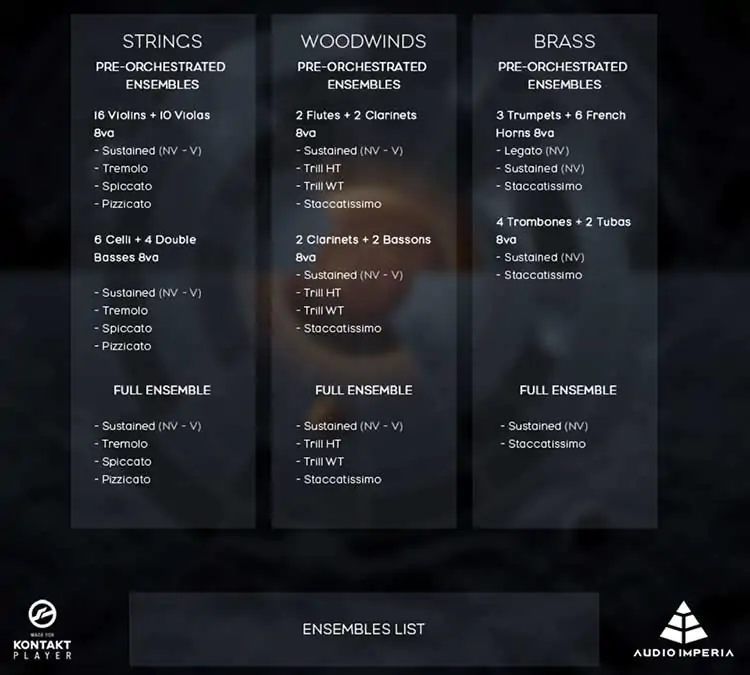 The folders of the library are divided into Multi Patches, Single Patches and Sound Design.
As I said the library is very light on system requirements but, in case the Multi Patches with all the articulations are still too heavy, you can dive into the Single Patches folder and hand pick the instrument with that particular articulation you need.
The GUI of the library is one of its – many – strengths.
There are two main views in the GUI: Basic and Advanced.
The first one shows up by default and, even if it is supposed to be "Basic", it contains all the controls you need to make music straight away. No bells and whistles. Simple. "Plug-n-play".
On the left you have control over the amount of reverb, in the middle you can select the articulation (if it is a multi patch) and on the right you have expression, dynamics and vibrato amount (for strings, woodwinds, etc.).
The Advanced tab is not very different from the Basic, in fact all it does is add a few more controls to tweak your sound further without having you to familiarize with a completely different interface. For example the advanced reverb also has a pre-delay and time control as well as the option of selecting a room or hall IR – both very good, I'd drown the entire orchestra in reverb. On the right side you can see the "Dynamic Range" knob, Sample Start and velocity curve/transpose/range controls.
While the transpose and range features are quite self explanatory, the dynamic range and the velocity curve are very useful in case of a less than responsive keyboard or if you are missing some piano skills and find it difficult controlling dynamics when inputting MIDI (particularly for short articulations – which is my case!).
At this point I would like to spend a few words on the Sample Start control which is set by default to -125ms (unless you select the "tight" patch where it is set to 0). The developer has intensely worked on consistency throughout the entire library and this can be seen (or better, heard) in every note of every instrument, both dynamically and timing-wise.
Many times, in other libraries, you can stumble upon inconsistencies between notes of the same instrument (or even between round robins of the same note) that make the library almost unusable. Do you know that feeling of playing the most amazing string ostinato and all of a sudden you get one note that is always late or one that is continuously sticking out and punching you in the face because it is not dynamically responding to what you played? This will not happen in Nucleus. Ever.
Which, in all honesty, is one of the strong points that make it appealing to pro users as a core library. But it gets even better. The library is SO consistent that you won't ever have that horrible feeling of playing an entirely different instrument when moving from the sustain to the (AMAZING as usual) legato patches!
They are both so perfectly aligned that what you play is what you get. They stick to the grid according to the sample start that you set.
TIP: As suggested by Audio Imperia, the -250ms is very useful if you want a realistic response from the instrument – which you would prefer for long articulations or more melodic lines – while -125ms is preferable in the case of faster lines and 0ms for spot on staccatos. You can find more about Sample Start in the manual on the developer's website.
Another very cool feature of Nucleus is the option of choosing between a classic mix and a modern mix at the top left corner of the GUI. While, at first, they might sound very similar, with the classic mix simply having lower dynamics, you slowly realize that they have been processed in very different ways. The classic mix is actually unprocessed and the modern mix, meant for cinematic and trailer-ish stuff, has possibly gone through some EQ+compression and harmonic exciter. This can be noticed especially in the short articulation which have a quite faster, clearer attack and generally sound crispier.
The woodwinds have genuinely surprised me with their realism and gentle yet well defined sound that I would expect from Audio Imperia. They are very present without being harsh and still maintain a rounded, full bottom end with just enough honk in the mid range. The percussions sound spectacular and the addition of tonal percussions like marimba, xylophone and glockenspiel, alongside the above-mentioned woodwinds, give this library an insane amount of versatility.
For Nucleus, just like in Jaeger, we have some amazing vocal performances, this time as a SATB choir. Unfortunately you will not find the amazing Audio Imperia legato because it would have taken so much time and resources that – like for the Merethe Soltvedt solo performance – it could then have been released as an entirely separate library. Instead you will find some very pleasing articulations: sustained Aah and Ooh and staccatissimo phrases that automatically cycle through a set of syllables!
Load all the choir patches, turn the reverb all the way up and get ready to write some amazing choral music.
Regarding the Strings and Brass… well, after Jaeger and Talos you should already know what we are talking about! (If not, read my Jaeger and Talos reviews immediately)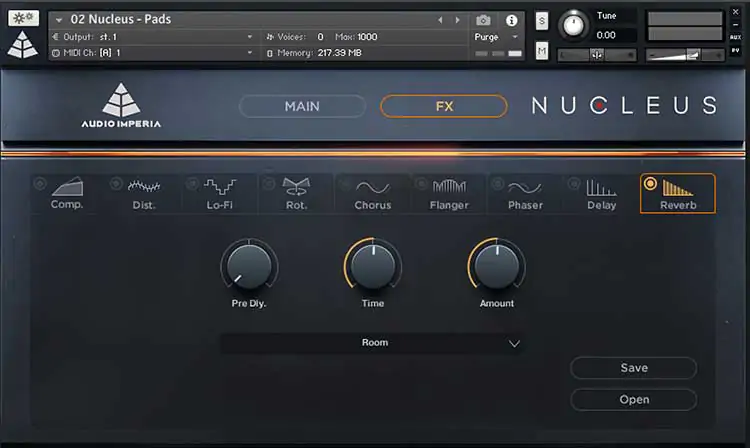 Last but not least the Sound Design department. The developer always puts some sound design goodies in every orchestral release and, as usual, it is top notch quality sound design. This time we have Pads and Drones with their very own GUI as shown in the pics. The only thing that I would say at this point is that, with the whole orchestra at my fingertips, I was really craving for a COMPLETE sound design section and I would have really loved to see boomers, downers, risers, hits, etc. so that I could really feel complete within Nucleus…
But, hey, we are talking about the best All-in-One Orchestral library around, for the full Sound Design experience we already have Scenes from the Multiverse, right? This one is an SLR Top Pick!
Facts
Nucleus installs at less than 20 GB, runs on Kontakt 6 PLAYER (FREE) and activates through with Native Access after the Continuata download.
Nucleus is possibly the best All-in-One Orchestral library on the market and, for the intro price, is a real bargain with everything you will need to write most of your orchestral music.
The GUI is very appealing and makes the instrument super user friendly and easy to tweak, with all the flexibility you would want to start writing straight away.
It is a must buy for someone who is looking for a first library or the professional looking for THAT ONE library for their portable setup… or just a very good, consistent and versatile core library to quickly sketch stuff and refine later with layering.
I really suggest to listen to the "Nucleus Only" demos to have an idea of how it sounds.
Nucleus sells for $449.00 from Audio Imperia
Demos of Nucleus by Audio Imperia
Videos of Nucleus by Audio Imperia
Contributor Andrea Federici reviews Nucleus by Audio Imperia
"Audio Imperia's Nucleus: the new king of comprehensive Orchestral library?"