Review: Appassionata Strings by Spitfire Audio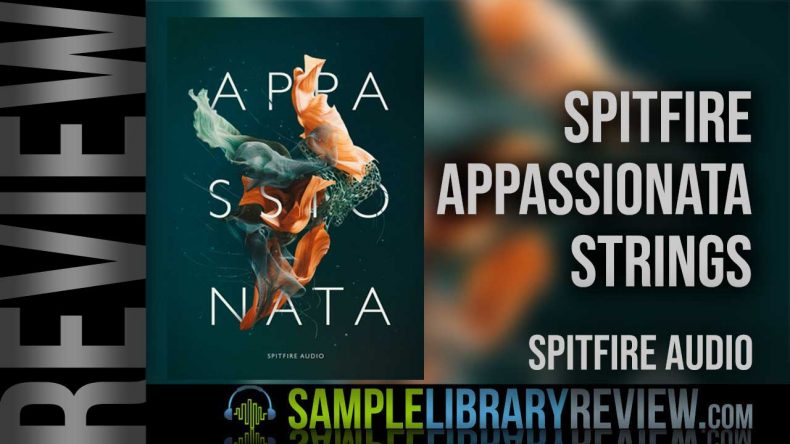 PROS
The library was beautifully recorded at Air Studios in London.
Very realistic legato.
Large collection of mic positions and mix presets.
The library features a medium size ensemble which sets it apart from most string libraries which have focussed on full sized orchestral strings.
A focused collection of articulations instead of trying to do everything.
Very passionate high velocity especially in the violin 1 higher register.
CONS
Arguably too many mic positions and mix presets causing the library's footprint to be larger than it needed to be.
Some users may have preferred Kontakt as opposed to Spitfire's sampler.
The name Spitfire Audio has become synonymous with quality in the world of sampling. With each product release, they deliver consistently high-quality and interesting sample libraries that often stand head and shoulders above their competition. Their latest release of Appassionata Strings is no exception and is sure to impress, giving users instant access to hyper expressive, passionate, and soaring legato lines.
Jump to the Videos of Appassionata Strings by Spitfire Audio
Jump to the Demos of Appassionata Strings by Spitfire Audio
Review: Appassionata Strings by Spitfire Audio
With so many string libraries on the market today it can be overwhelming to pick a product that's right for you. When making this kind of purchase, your needs must be carefully considered. Are you looking for a bread and butter, all-in-one, string library to meet most of your day-to-day needs, or are you looking for a support library to fill holes in your other libraries for more niche and auxiliary sounds? If you don't already have a good foundation of sampled strings in your arsenal, this is maybe not the best place to start. If, however, your core string needs are met and you're looking to enhance the detail and nuance of your string sound, then Appassionata Strings from Spitfire Audio may be the perfect support library!
Appassionata Strings normally sells for $249 from Spitfire Audio
Thoughts
When you open the instrument you are greeted with a clean and simple GUI allowing access to your various articulations. Since this is not a "do it all" library, this list is limited. "Focused" may be a better word than "limited" here because that's what you're getting. A library that is focused on its ability to deliver convincing and expressive legato performances. The instrument can do little else as it isn't designed to. Your available articulations include combo legato, slurred legato, sustains, three different types of hairpin articulations that swell in and out of the note, and finally, a short glancing attack. The combo legato is the main feature of the instrument so I started here.
It's immediately apparent that the library is extremely expressive. The five dynamic layers really shine and you can smoothly and seamlessly transition between them. On the Violin 1 patch, the highest dynamic layer, especially in the high register, is stunning. One thing I noticed right away was little nuances in the performances that would seem to just emerge from my natural playing. Things like sliding into notes at the height of a passionate melody or the subtle sound of the next note being re-bowed as opposed to slurred. All these things were happening without my input and it all felt incredibly natural and musical. Some might argue that a user ought to have exact control over when and how these nuances occur so you could shape the performance to exactly your desires. For most users though, we just want it to work and to sound good. That's what you get here.
The size of the ensemble is also an interesting and welcomed choice. While most string libraries opt for a more standard full orchestral sound, Spitfire went with a medium ensemble size for this library. At 30 players, it's not exactly a small ensemble sound by any means, but it is a more intimate and perhaps detailed sound than you would get from a full string section. This benefits the library in two ways. The first, and most obvious, is that you're given access to a different sound than you may already have. We all have full ensemble string sounds. This is different. Hearing 6 violinists play a line will have a lot more individual player character than hearing 12 people playing that same line. The second benefit highlights what I believe is this library's true strength: the size allows it to double well without overwhelming an ensemble. If you've written for a string section and mocked it up with a full-sized orchestral library, when you double it with samples from a different library, you may end up with a cartoonishly large orchestra. Though this larger-than-life sound can be appropriate for some scores, it's not a core orchestral sound you may be chasing with your mockups. Regardless, a problem remains in that the sound of one library on its own may not please. Feathering in a smaller ensemble library like Appassionata allows you to add detail and nuance to a string section performance without creating an overly large sound.
Appassionata Strings does exactly what it's designed to do. It delivers hyper expressive legato performances very quickly. If your bread and butter string needs have already been met elsewhere, this would be a very welcomed addition to your sound and would give you instant access to nuance and detail you may be otherwise missing. It's a pleasure to play, it sounds great, and will absolutely remain a part of my day-to-day template as a support library.
Facts
Weighing in at a whopping 82.4 GB, Appassionata Strings is the latest orchestral string offering from Spitfire Audio designed with soaring legato lines in mind. The ensemble was recorded at Lyndhurst Hall in Air Studios in London. The instrument features a medium-sized ensemble of 8 first violins, 6-second violins, 6 violas, 6 cellos, and 4 basses each recorded at 5 dynamic levels with 4 round robins each. The instrument features 4 mix presets and 7 mic positions including Close, Tree, Ambient, Outrigger, Close Ribbon, Stereo Room, and Mids. The included articulations are Combo Legato, Slurred Legato, Sustain, Glancing Attack, as well as Short, Medium, and Rebowed Hairpins. The library runs in Spitfire's proprietary sampler and doesn't require Kontakt to run.
Appassionata Strings normally sells for $249 from Spitfire Audio
Demos of Appassionata Strings by Spitfire Audio
Videos of Appassionata Strings by Spitfire Audio
Contributor Shaun Chasin reviews Appassionata Strings by Spitfire Audio
"The name Spitfire Audio has become synonymous with quality in the world of sampling. With each product release, they deliver consistently high-quality and interesting sample libraries that often stand head and shoulders above their competition. Their latest release of Appassionata Strings is no exception and is sure to impress, giving users instant access to hyper expressive, passionate, and soaring legato lines."