SLR Staff Picks for July 2019 – Midi Controllers
In full disclosure, this months staff picks is a blatant abuse of my position running Sample Library Review. Don't take that the wrong way, the topic is near and dear to my heart. In my humble opinion, one of the most important steps to getting virtual instruments to be as expressive as possible is to find a method to control them in real-time and have the instruments act as an extension of your intentions.
I have a box full of controllers, faders, a midi guitar, a midi guitar adapter, a laser 3D midi scanner thing and foot pedals that I have tried over the years.
Also, over the past couple years I have gone through 3 different keyboards. I have used a Keystation 88es by M-Audio and an Impact LX88 by Nektar both of which sadly started having modwheel issues. I also had iRig Keys I/O 49 Keyboard Controller by IK Multimedia that the power chord started shorting out. So . . . I need to buy a new keyboard controller.
I still do use my iPad with various app controllers from time to time but had fallen in love with Palette by Palette Gear. Last year I incorporated it into my workflow but sadly I am unable to use it as it is not compatible with a USB hub. I recently upgraded to a good spec'd out 2018 Mac Mini with only 2 USB slots . .  so Palette was sent to the box as well.
At this point, things are getting out of control! I need to replace all my controllers and rather than do the research myself I reached out to the SLR contributors to see what they were using and loving. Huge thanks to everyone below as this month's Staff Picks have already been useful, even prior to publishing.
best,
Don
Sam is a songwriter, producer, composer and educator based in the UK. A former BMG/Sony Records/Universal Publishing artist, Sam now creates music as part of the duo Border Scout and for trailer houses. Sam also works as an educator, tutoring musicians of all ages for the non-profit TICE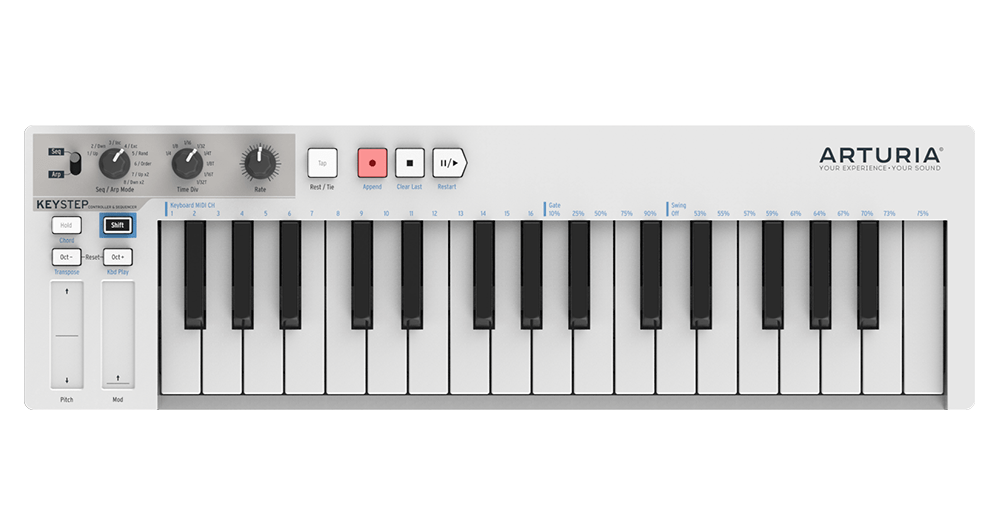 Axiom 61 by M-Audio
The M-Audio stuff is reliable and the keys have a decent feel. I don't need hammer action as it makes it hard to play in rhythms. This older model has loads of sliders which have quite a smooth action and make it easy to write in midi cc. It's about eight years old now and still going strong, though the new versions look pretty tempting!
KeyStep by Arturia
Ideal for the desktop or travelling the Key Step is really solidly built and affordable. The keys are very responsive and it includes an arp/sequencer too. I prefer a physical modwheel but this touch one is still decent.
Akai MPD by Akai
I don't currently have one of these but I used to have an MPC and you can't beat the classic 4×4 grid of pads for programming beats. However, they don't fit my current workflow as percussive sample libraries often get mapped out across way more than 16 keys so I generally find it easier to play them in via the piano keys.

Brian Freeland is a musician/composer for video games and all media, a technology enthusiast, and all around music nerd.
Yamaha MX49 by Yamaha
The MX49 is not only an amazing and affordable synthesizer, it's one of the best MIDI controllers I've used, and my main workhorse for every day work in the studio. It integrates seamlessly with Cubase, features great synth action keys (which I personally prefer), and in addition to offering great MIDI/Vst control options, it has a plethora of onboard sounds straight from the acclaimed Yamaha MOTIF which you can use in Cubase without having to record the synth as audio.
PreSonus ATOM Pad Controller by PreSonus
The ATOM pad controller has the best feeling pads out of all the controllers I tested in this price range. It makes playing and programming drum tracks a real joy.
Komplete Kontrol S25 by Native Instruments
This is the controller I use when I'm on the go (or when I want some more space on my desk), and when I need sounds fast, I load up the Komplete Kontrol plugin in my DAW. Not to mention I really enjoy the NKS integration as well.

Kent K. is a composer, writer, and breakfast food enthusiast living in Hollywood, California
Axiom 61
61- Key USB MIDI Keyboard Controller by M-Audio
This is a good affordable controller. The keys are semi-weighted, leaning perhaps a hair to synth action, and feel solid in construction and very fluid to use with virtual instruments. There are many buttons to control transport and patch changing, and there is even a small drum pad!
Benjamin Goldman is an award-winning composer who specializes in creating original music for film, television, games and other media. He has collaborated on over 40 projects from around the world.

Keystation 88es Pro by M-Audio
M-Audio's Keystation 88es Pro is a great, budget midi controller for composers like myself who are looking for a full-range keyboard with tons of extra knobs, faders and controls. While the Keystation line is currently discontinued, the updated Hammer 88 seems like a nice, simplified upgrade with improved feel and modern functionality.
TEControl USB MIDI Breath Controller by TEControl
For those interested in creating ultra-realistic and expressive orchestral mock-ups, the TEControl USB MIDI Breath Controller is the perfect option that puts the control back in your hands…or mouth. This simple, yet powerful controller has changed my workflow for the better by utilizing air to shape a truly unique, sampled performance.
Tim has been playing keyboards and drums for 20 years and composing orchestral music for about 10 years. He is currently working on his bachelor's degree in music production with a focus on video game scoring and commercial music.
NI Komplete Kontrol S61 by Native Instruments
I mainly got this keyboard because I wanted to utilize the light guide for my key switches. I was actually really surprised with how good it felt and with the number of other features packed into this thing. The visual displays are great and allow you to access your NKS libraries right from the keyboard. I still really love the light guide and how it gives you the ability to light up scales and key switches.
PreSonus Faderport 8 by PreSonus
I got this one because the motorized faders were really smooth and it was compatible with most DAW's. It was really easy to set up and has become my go-to controller for mixing and track automation
Andrea Federici graduated Cum Laude from Berklee with a Masters Degree and now composes music and sound design for Film and Video games. A former Metal guitarist, Andrea surrounds himself with computers, music software and gear.
Seaboard Block by ROLI
I love small, portable keyboards and ROLI's Seaboard Block is simply the perfect companion for your laptop in a stylish mobile-composing setup! The advanced controls and possibilities of this instrument are bliss to play with (if set up properly).
Nanokey2 by Korg
Another small keyboard for a portable setup. The sensitivity/velocity of the keys are slightly sacrificed in favour of a very small price! Still a very good option if you don't want to manually write MIDI.
Komplete Kontrol s88 by Native Instruments
At the top end of the spectrum, the Native Instruments Komplete Kontrol s88 is a very nice keyboard that would definitely find a good use in the hands of any piano-skilled composer (that's why I only had the pleasure of trying it but haven't included it in my setup!). The integration with Kontakt Libraries is something that gives the software a very pleasant "hardware feel".
Editor Brian Brylow (Composer, Sound Designer, and Producer) creates music as part of the electronic duos Parallaxe and Gorgon Nebula as well as Arpegiator. Brian probably owns more VIs than anyone I know! His Staff Picks are below:
Panorama P6 Midi Controller by Nektar Technology, Inc.
In a move that may seem like heresy to some, I set aside my NI Komplete S61 in favor of the Nektar Panorama P6. In terms of functionality, the P6 provides weighted keys, function/transport controls, a bevy of sliders and rotary controllers and my favorite part – a motorized fader with solo and mute controls. I just love this keyboard for playing piano and synth/vi instruments alike.
Linnstrument by Roger Linn Design
In addition to my Roli Seaboard, one of my favorite MPE controllers is the Linnstrument. Laid out in the standard guitar 4ths, playing stringed instruments are a breeze, as are any synths. The playing capabilities for slides and MPE expressions alike are natural and easy on the fingers. Steady firmware updates have seen polyphonic step sequencing, split keyboard and strumming mode amongst many others. Highly recommended!
Beatstep Pro by Arturia
As an auxiliary Midi controller, this one does everything I could want. It includes two independent step sequencers, a drum sequencer and CV/Gate control. With 16 comfortable drum pads, you can program beats, trigger clips and scenes or use them as I do for controlling Midi CCs. This is a really useful tool in the musician's arsenal.
Shaun is a Canadian composer for film, TV and video games who studied at University of Southern California's Scoring for Motion Pictures and Television graduate program. He currently resides in Los Angeles with his cat Bogie.
Code 61 by M-Audio
With a sleek and modern design and a relatively small footprint on your desktop, this 61 key controller is perfect for any composer's studio. Though the keys are only semi-weighted, they feel great to play. The keyboard also features 16 LED capable launch pads, 8 assignable encoders, 9 very sturdy and professional feeling faders, and as an XY pad. This seems to be the spiritual successor for M-Audio's Axiom 61 which I used for an entire decade without it breaking down on me. I think we can expect a similar life span and quality from this controller!
Faderport by Presonus
The Faderport is a simple and small controller which allows you to easily integrate one full-sized motorized fader into your workflow. The controller is also offered in 8 and 16 fader versions.
Nano Kontrol 2 by Korg
This small but powerful controller is the perfect all in one solution to all your CC controlling needs! Its small size makes it perfect for the on-the-go composer looking for a full-featured CC controller for their mobile studio.
MCR is a working composer/producer who pitches relentlessly and hasn't had a vacation longer than he can remember. He owns Melodikiln, a company specializing in media for film, TV and corporate clients and is also the founder of OffOffIndie, a small independent record label.
XKey 37 by CME
USB bus powered lightweight portable midi keyboard made of the same aluminum as used in macbook pros. Very lightweight and rigid with full sized keys (that do take some getting used to) spanning 3 octaves. you can move those octaves up and down with a keyswitch to cover the whole keyboard and then some. it has velocity sensitive keys with aftertouch. it's solid and fits into my checked luggage. it's tough and almost unbreakable. it has break out cables for sustain if wanted. truly a go anywhere midi controller.
Traveler Pro Mod-X Guitar by Traveler Guitars with Fishman Triple Play
A great portable solution for the guitarist. Very small footprint and super lightweight, but once assembled fits computably in my lap. I outfitted mine with the Fishman Triple Play midi tracker and that works beautifully. It enables me to respond to any kind of request I might encounter while traveling.
Alex Mueller is an award-winning composer and violist based in St. Paul, Minnesota.
Akai MPK Mini by AKAI
This compact controller quickly became a main feature in my secondary AKA mobile rig, but also gets quite a bit of use in the main studio when I want to enter something quickly and don't need to play a proper piano part (using two hands). It's small enough to fit in a laptop bag, and easily fits on the desk in front of the screen so you can work basically anywhere. In addition to a 2 octave keyboard, it has 8 velocity sensitive pads which I prefer for inputting percussion lines over mashing the keys. It also has a bank of 8 programmable knobs, which come in handy for controlling various parameters within any DAW. I have an older model, Akai is currently onto the mkII (which has a joystick for pitch bend/modulation and an input for a sustain pedal that mine doesn't have… maybe I should upgrade…)
Korg NanoKontrol2 by Korg
Another favorite little gadget for the spy–er– composer on the go. This ultra-low profile control surface is fully customizable, and works better for people like me who prefer to have actual buttons and sliders as opposed to touch screen or mouse input. It finds good use in the mobile rig as well as in the studio as it's actually small enough it fits in the keyboard tray along with the (typing) keyboard. I initially got it because my digital piano doesn't have a modwheel, but I found I like it for mixing as well as CC input.
Komplete Kontrol s49 or s61 by Native Instruments
S49 and S61 are basically the same controller except for the number of keys, so I've grouped them together. Honestly, at first I didn't like the touch strip; I prefer buttons and controllers where I can feel resistance and the touch strip was a bit too much like a touch screen, but after I started to get the hang of it, I really liked it. In the new units, physical wheels are incorporated alongside a touch strip (time to upgrade?). The backlights to indicate zones are another helpful feature of this controller. The new ones have screens that make the unit a little deeper than the older models, but along with that comes a slew of workflow tools, like onboard tagging for NKS instruments to get to your sounds faster. It also has transport controls for most DAWs.
Raborn Johnson is a musician and film composer who has been turning in some terrific reviews.
M-Audio Keystation 88es by M-Audio
I've had a couple of 61-note synths over the years, but I often ended up missing the full 88 notes of a traditional piano. When I moved from hardware synths to virtual instruments, I decided there was no use in breaking the bank for a controller. So, I purchased the M-Audio Keystation 88es mainly because it was the most inexpensive option for an 88-note controller. I have been very satisfied with how durable and useful this controller has been. I've used it for several years now without any issues and really enjoy it. M-Audio no longer manufactures this particular model, but instead now offer the Keystation 88II which appears to be the same controller with a few added features. I highly recommend this controller for anyone wanting a full 88-key controller who also doesn't want to break the bank.
nanoKONTROL2 by Korg
The Korg nanoKONTROL2 is an excellent MIDI controller with an inexpensive price tag. You can program the nanoKONTROL2 to either control your DAW, send MIDI information to your virtual instruments during live performance, or to send MIDI CC data to your DAW. I love how small this controller is. It fits perfectly in front of my keyboard controller on my desk and could easily fit into a gig bag for live performance. The faders are responsive and it's easy to set it up to control your virtual instruments. Highly recommended.

Raymond has a BFA in Music Composition from Bard College and studied with Ben Boretz (his mentor), Virginia Gaburo (Perspectives of New Music), JK Randall (Princeton University) and Joan Tower (De Capo Chamber Players). Raymond specializes in playing live improvisational "space music" heavily influenced by Tangerine Dream, Klaus Schulze and Radio Massacre International utilizing VSTs alongside his collection of hardware synths.
ROLI Seaboard Rise 49 by ROLI
I'm not going to lie…the ROLI Seaboard controller will take some getting used to and playing chords can be a little unorthodox but the amazing 5D performance will take your music to places unimagined. Specific software like Equator, Strobe 2 and Cypher 2 are specifically designed with the ROLI in mind and, I guarantee, once you are hooked, you will not want to play anything else.
Touche SE by Expressive E
I broke down and purchased the Touche SE model from Expressive E which is strictly USB and meant to interface with VST synths, in addition to its own product, "Lié"…this is definitely meant for the performer who can play and "chew gum at the same time" as it does take good hand coordination when modulating the sounds. There are four positions on the Touche and you can assign up to 8 modulations within most any VST Synth you own. Like the ROLI, it is designed for the performer who wants to push the boundaries of their music to new heights.
Steve Blizin is a producer, sound designer, audio engineer and composer. He has been creating loop-based music for nearly 20 years
Native Instruments S49 Mk2 by Native Instruments
Over the years, I've owned weighted key keyboards, complicated "workstations" and cheezy-no-frills (but perfectly adequate) MIDI keyboards. For the past 4 years and with limited desk space, the Native Instruments S49 Mk2 has been my daily driver. Rarely do I long for 61 keys and though not weighted, the keyboard itself plays and feels quite natural to me. Keep in mind that I'm not a classically trained pianist – so I often beat on the keys like a bombastic baboon and so far, this keyboard has held up nicely. With lights to indicate certain features of NKS ready products, controls at your fingertips and a Decksaver hard plastic cover, I am exceptionally happy with my set up.
Roli Seaboard Rise 49 by Roli
Soon after its release, I purchased a Seaboard Rise 49 with its sexy silicone keyboard and Multidimensional Polyphonic Expression (MPE) capabilities, it was a bit of a risk for me to invest in in 2016. Fortunately, that investment is really beginning to pay off. While Roli offers some exceptional libraries, Massive X (just released in June of 2019,) now finally allows for the full expression of the MPE standard. Many others will soon follow suit, I suspect. Small, sturdy and just a pleasure to play, this keyboard is amazing for certain tasks such as emulating the natural timbres and tones of fretted instruments like bass and guitar and I suspect that other instruments will come along to take full advantage of MPE. Using the Seaboard as a drum pad might seem pedestrian, given its capabilities but it's just so delicious on the fingertips! However, perhaps because I am not a practiced and precise keyboard player, I find the Roli difficult to play with many traditional keyboard sounds.
Maschine MK3 by Native Instruments
It would be unfair for me to attempt any user feedback on the MK3 just yet. I recently purchased one in the hopes of mastering its many complex functions – and dare I say, I'm woefully behind in my lessons! But Native Instruments is already at work improving the user experience with recent firmware and software updates. A brief search of Youtube will reveal a number of very compelling compositions created with nothing more than this single tool and now that both Maschine & Kontrol have integration with Sounds.com, quickly expanding your libraries is a snap.
---

 Don't miss the new Deal Compressor.
All the Deals that make our radar on page.
---
See all past Staff Picks Posts