Review: Zupfpiano by Sturmsounds
PROS
Different approach to pianistic sounds
Very suited for cinematic and underscore projects
Nice built-in effects that greatly enhance the sound palette
Small footprint on your hard drive
Interesting preset textures
Straightforward and uncluttered interface
Very reasonable price-wise
CONS
Another piano derived cinematic library
No way to access the various patches from a master patch
Only two articulations to choose from
Sounds will probably be of most use to cinematic and TV composers
Could use a manual and some interface enhancements
An interesting and versatile piano-based instrument that could be very useful for cinematic and underscore composers. Whether used as a solo instrument to add some spooky melody lines or as a layer under your favorite piano patch, Zupfpiano would be a good adjunct to any composer's existing arsenal. Though limited to 2 main articulations, it's extensive built-in effects give the instrument a lot more versatility than is at first apparent. And at the present discounted price, it's pretty much a 'no-brainer' purchase.
Jump to the Videos of Zupfpiano by Sturmsounds
Jump to the Demos of Zupfpiano by Sturmsounds
Review: Zupfpiano by Sturmsounds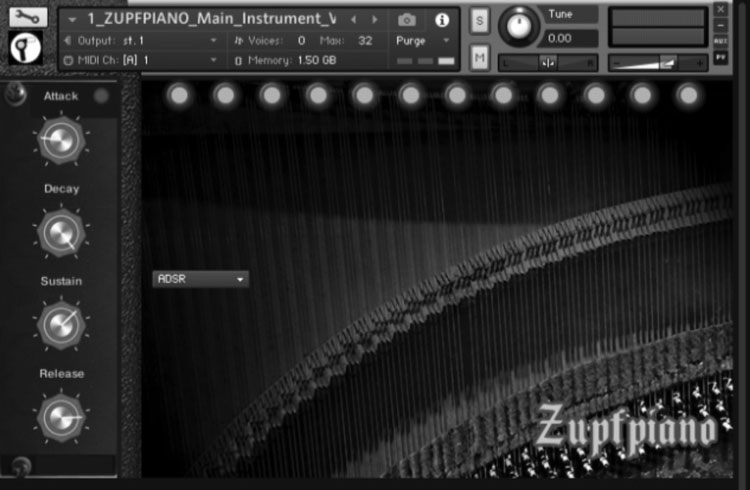 Zupfpiano sells for On sale right now for 46.50 euros from Sturmsounds
Thoughts
Sturmsounds (Sturm means…guess what… Storm in German!) is a German sample library developer that you've probably never heard of. That doesn't mean it's not a good one. They are one of many smaller niche-oriented developers that are creating interesting products based on strange, unusual sound sources. In the case of Sturmsounds they range from a hairdryer, an old beat-up violin, an out of tune auto-harp and to now, the Zupfpiano, a piano that is sampled in the 'flageolet' style.
For those of you who are not string players, 'flageolet' refers to a string technique whereby the player creates harmonics by touching overtone positions on the string with the finger of one hand while simultaneously plucking the string with the other hand. (Guitarists would be very familiar with this technique. As far as using this technique on a piano, one could imagine it would take some dexterity to accomplish though I think they probably used at least two people to do it.)
This is the first time I've ever heard of a sample library that uses this technique exclusively to create it's sample pool. (Though there may be others out there that I'm not aware of. I'll leave that to the editorial gurus to verify if so desired.) The result? Well to my ears, the Zupfpiano (Zupf means plucked in German) offers some beautiful, haunting textures that could work wonderfully in a trailer setting as a lead melodic line, or in some horror/thriller underscore.
The interface is unusual. Basically when you open one of the Kontakt patches, a simple image of the inside of a piano harp is displayed. (Note: this instrument only works with the full Kontakt 5 and up. ) When you hit a note, percolating lights shine up on the piano image showing which note you're playing. At first I thought this might be a very useful visual cue, but there's no real way of identifying which note exactly is being played. Clicking on the lights does absolutely nothing. So, I suppose it's more of an aesthetic thing. At least it looks pretty!
There's a small drop down down menu in the middle of the Kontakt wallpaper that gives you access to the 9 different effects and sampler settings including ADSR (Attack, Decay, Sustain, Release) and Key setting, which gives you access to velocity depth, panning, and even a humanize function for some randomness. There's also a filter, reverb, delay, distortion and tremolo. While simple in themselves, when combined they give the instrument a whole new palette of sounds from pulsating bass lines to screeching distorted wails that would not be out of place in some horror flick.
When you choose a particular effect, the controls appear on the left hand side. You can play around with these and the changes can be quite dramatic. Some experimentation here is strongly encouraged. You'll be surprised at what you can come up with!
That having been said, the instrument has limitations. First of, the simplicity of the interface hides some of the features you might want to access. I found myself clicking on areas of the piano harp image to see if there was any other control I could access. In particular, you have to remember that once you engage an effect, nothing will tell you if that effect is on or off. So say you engage the reverb and then decide you'd rather use the delay, you have to actually turn the send button up or down on the corresponding control strip to the left of the display. Otherwise the effects pile up. Now while the concept of having actual sends makes sense and allows you to dial in the amount of effects you want to use, I think it might have been better to have some kind of a master mixer type of strip at the bottom of the display. That way you wouldn't have to click on the corresponding effects tab each time to adjust the amount or characteristic of the effect(s) you're using. A quibble I guess but one that seems like it could have enhanced the controls available.
When you choose one of the 20 or so preset patches, you can see which effects are being used by…watch for it…clicking on the effects tab. There you'll see the effects used because they are at the top of the list and ones not used are at the bottom, separated by a dotted line. At least that's what I figured out. I think.
Which brings up another obvious missing piece. A manual. Unless the review copy I was working with was lacking one, I could not for the life of me locate a manual. I suppose the German developers would assume that everyone thinks the way they do and that the features are obvious to everyone. This is a common teutonic assumption with products ranging from BMWs ( I own 2) all the way to well, the Zupfpiano. But at least the bimmers come with a pretty extensive manual. Hey, even some simple mouse-over help bubbles would have been useful when you want to get up and started.
Another strange feature is that you can't access the various presets from the main instrument patch. Again, a small quibble but being able to access all the presets from a single instance would be a timesaver and convenient. Always a consideration for working composers.
The sounds are limited of course since they're based on two articulations: Flageolet and Pizzicato. But with the effects and the various filters and ADSR, there's a lot of textures you can create with these two sampled articulations. And you do get 25 preset patches to start with.
Now there are a number of sample libraries out there that play in this space. Mangling, smashing, plucking and generally abusing pianos both upright and grand. So, Zupfpiano is certainly not unique in that sense. But I found myself gravitating to it because of its general simplicity of use (once you figure out where things are and what they do) and its full organic and rich sound. It's well recorded. The effects sound good, especially the convolution verb and they add a lot to the overall flexibility and usefulness of the instrument.
Is it a must buy? Probably not for the average composer. But if you're looking for something different to add to your arsenal of cinematic textures or if you do a lot of work in suspense style underscore or trailers, it would certainly be a useful tool to have.
Facts
Full Kontakt 5 and up required. Not Kontakt Player.
Program size: 2,55 GB
25 patches
Zupfpiano sells for On sale right now for 46.50 euros from Sturmsounds
Demos of Zupfpiano by Sturmsounds
Videos of Zupfpiano by Sturmsounds
Contributor MCR reviews Zupfpiano by Sturmsounds
"Whether used as a solo instrument to add some spooky melody lines, or as a layer under your favorite piano patch, Zupfpiano is an interesting and versatile piano-based instrument that could be very useful for cinematic and underscore composers. Pretty much a 'no-brainer' at this price!."