Review: Universe by Triple Spiral Audio
PROS
Very high-quality samples and snapshots
The GUI is clean, simple and looks great
Diverse catergories from pads to motions
Huge level of customization
High-quality effects are built-in
Exceptional value for money
Triple Spiral Audio have released The Universe, a sonic powerhouse for all things out of this world. By building upon years of quality sampling and sound design, has Triple Spiral Audio created an otherworldly hybrid instrument? The simple answer is "yes" and with so much to explore this is a composers and sound designers celestial dream.
Jump to the Videos of Universe by Triple Spiral Audio
Jump to the Demos of Universe by Triple Spiral Audio
Review: Universe by Triple Spiral Audio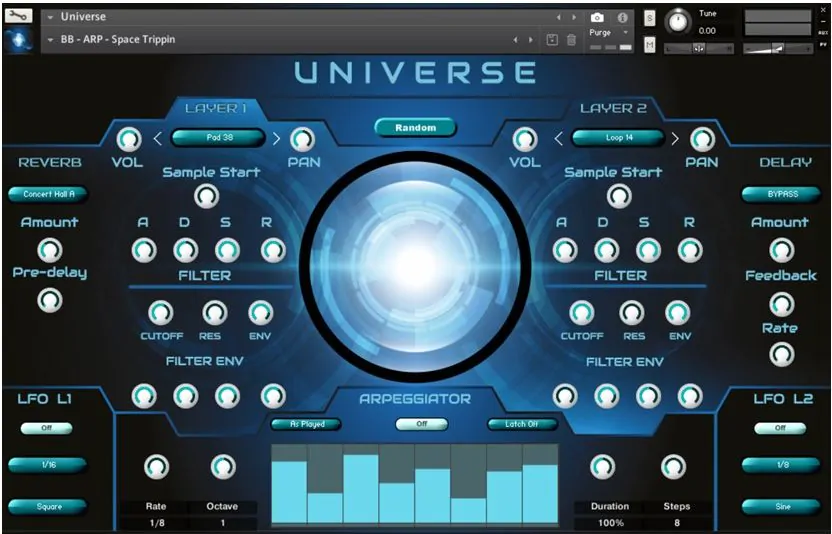 The Universe is a hybrid instrument that contains pads, atmospheres, arpeggios, sequences, loops, motions, distortions and shorts with an ethereal quality. The instrument downloads at 3.1gb of space which is a remarkable small amount of hard drive space for such a vast library. The Universe will instantly find a place in your template and provide you with far more scope and diversity in your hybrid projects. Not only is this instrument great for calm, serene and celestial composing, it can add exquisite quality to more action packed compositions.
Universe sells for €45.45 after intro promotion ends. from Triple Spiral Audio
Thoughts
The hybrid music genre has grown significantly in the past five years. As a result, sample library developers have had the bar set very high. It's rare that you have such moments where upon loading a new instrument for the first time you know the developer has managed to raise the bar. This is the moment I had when loading up Universe for the first time. This instrument is that good and these are the reasons why.
The first wow moment for me what when I saw the GUI. It's big, clear, simple and has almost everything you need on one screen. Dominating the centre of the Universe GUI is a "big knob" feature that has become very popular with developers in recent times. It is mapped to the modwheel of your controller and can also be mouse driven if you prefer. This can control all manner of effects and CC assignable parameters. From the GUI you can see that this is a twin layer based instrument with each layer being given it's own volume, pan and filter controls. Neatly at the bottom there is an arpeggiator and lofi controls. On the far left and right of the GUI are reverb and delay controls respectively. All credit to Triple Spiral Audio here as this single page of the GUI gives you immense control and it is so simple to use. Other developers need to see this as a shining example of how it should be done. The second page features more specific effects such as flanger, phaser and skream. Again, extremely easy to use and really fun to play around with. It sometimes too easy to get lost in a world of sound design with Universe and I had to constantly remind myself to get back to composing my cue.
So, speaking of composing, how does it sound? In a word, Universe is breath-taking. The library is comprised of 200 samples split into pads, atmospheres and loops. While these are expertly sampled and are great choices as sources for such an instrument, the magic is in the manipulation of the samples. There are over 300 snapshots contained within Universe and these are split into seven different categories. The Ambience snapshots instantly give a sci-fi vibe and provide simple or complex beds to build your arrangements on. I really like how each ambience has character yet through the clear GUI is easy to tweak to taste. I like ambiences that drift off into a pool of reverb so with two clicks that was achieved. The Distorted samples provide a healthy dose of sci-fi grit while still sounding warm and analogue. These can be adjusted with the levels of "skream," but the distortion is never over the top. The Pads and Soundscape categories both create lush backdrops that are instantly inspirational. The Shorts provide synth type sounds that would not be out of place in epic sci-fi scores and the Artist category are 80 snapshots designed by pro sound designers. Needless to say these push the instrument to it's far reaches and all sound incredible.
I have purposely left out one category, namely the Motions. This collection of snapshots for me are the most inspiring part of this instrument. There are dedicated libraries on the market that are only dedicated to pulses and motions. Universe is capable of creating beautiful, mysterious and energetic motions with a couple of mouse clicks. Coupled with the level of effects tweaks and customization as discussed before, we are presented with an arpeggiator producing results that could be seen in top budget software. Not only is this exceptional value for money but motions like these are the backbone of many hybrid scores. I guarantee these will find their way into your main template as they have mine.
Finally, last but by no means least is the "random" button at the top of the GUI. This will match up two of the samples which makes up thousands of possibilities. With the depth of control over effects, envelopes and an arpeggiator, there are endless possibilities to make unique sounds. For me, this is what sets aside a good instrument from a great instrument. Will all users of Universe sound the same? Definitely not.
In conclusion, Triple Spiral Audio has created an exceptional instrument that is great value for money. Entire sci-fi hybrid scores can be created using only Universe yet when combined with other libraries and synths Universe can go head to toe with them. This instrument should become an industry standard hybrid scoring tool and the best bit is, with creative use we'd never know it's being used so will never get over saturated. At this price point it is an absolute bargain and reflects the on-going trend of Triple Spiral Audio's high-quality products.
Facts
Universe downloads at 3.1 GB and requires the full Kontakt version 6.1.1. There are 200 sound sources that form over 300 snapshots, including 80 snapshots from visiting sound designers.
Universe sells for €45.45 after intro promotion ends. from Triple Spiral Audio
Demos of Universe by Triple Spiral Audio
Videos of Universe by Triple Spiral Audio
Contributor Pete Checkley reviews Universe by Triple Spiral Audio
"Triple Spiral Audio have released The Universe, a sonic powerhouse for all things out of this world. By building upon years of quality sampling and sound design, have Triple Spiral Audio created an otherworldly hybrid instrument? The simple answer is yes and with so much to explore this is a composer and sound designers celestial dream."