Review: Symphonic AI by Sample Logic & Red Room Audio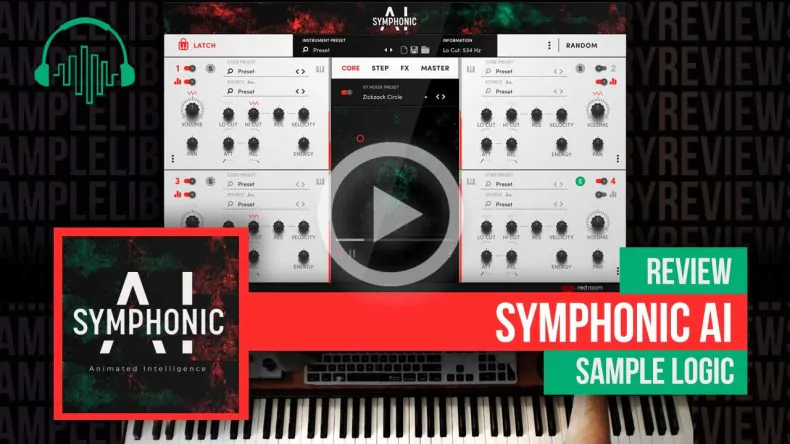 PROS
Possibly the most flexible and deeply scripted Kontakt engine around
High-quality orchestral samples
Inventive animations with deep sound design possibilities
Endless combination of sounds
Tons of presets
MIDI Drag & Drop for the Sequencer
What happens when you combine the orchestral sampling prowess of Red Room Audio with the inventiveness and programming chops of Sample Logic? Something special, and that's what you have in the hybrid orchestral instrument, Symphonic AI.
Jump to the Videos of Symphonic AI by Sample Logic & Red Room Audio
Jump to the Demos of Symphonic AI by Sample Logic & Red Room Audio
Review: Symphonic AI by Sample Logic & Red Room Audio
Sample Logic and Red Room Audio are both well-known names within the virtual instrument world. Now, these two excellent developers have teamed up as a dynamic duo with their joint instrument, Symphonic AI. Symphonic AI takes the organic orchestral samples and editing of Red Room Audio and filters them through the animation and Kontakt scripting from Sample Logic to create a unique hybrid orchestral instrument, dripping with inspiration.
Symphonic AI by Sample Logic & Red Room Audio sells for $499.99 from Sample Logic
Thoughts
To say that Symphonic AI is a deep instrument would be a vast understatement. Not only can you play with raw orchestral samples such as violins and horns, but you can mangle, twist, and animate those sounds to create something orchestral, some synthetic, or something never heard before. As usual, Sample Logic have presented the best step sequencer available in a Kontakt instrument, but this time they stepped it up to even include MIDI Drag & Drop functionality for that sequencer. With four cores each consisting of two sound layers, the stacking and layering feels almost limitless. Pair that with a separate step sequencer for each core with any number of steps you want, and you have something I've not seen anywhere else. Red Room Audio have given us high-quality orchestral sampling and editing that is taken to a whole new level with the brilliance of Sample Logic's deep Kontakt scripting and interface. This instrument is so deep that I can barely scratch the surface in this video review. I highly encourage you to watch the immensely helpful developer videos to get a full understanding of the possibilities of Symphonic AI. To Red Room Audio and Sample Logic, well done!
Facts
Symphonic AI works in the full version of Kontakt 5.8.1 or higher. It includes 938 multi-sampled instruments and presets from 13GB of sample content made entirely from multi-sampled orchestral instruments. Symphonic AI is available from Sample Logic for $499.99 but is available for the introductory price of $249.99 at time of review.
Symphonic AI by Sample Logic & Red Room Audio sells for $499.99 from Sample Logic
Demos of Symphonic AI by Sample Logic & Red Room Audio
Videos of Symphonic AI by Sample Logic & Red Room Audio
Contributor Raborn Johnson reviews Symphonic AI by Sample Logic & Red Room Audio
"What happens when you combine the orchestral sampling prowess of Red Room Audio with the inventiveness and programming chops of Sample Logic? Something special, and that's what you have in the hybrid orchestral instrument, Symphonic AI."