Review: Sonuscore's The Orchestra Essentials by Best Service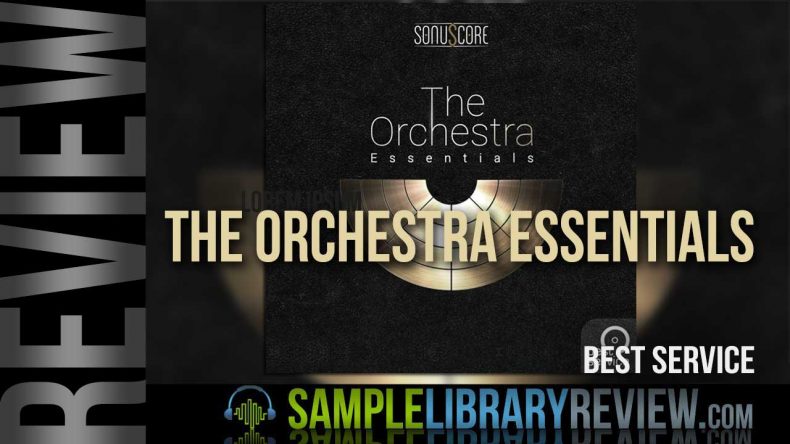 PROS
Instant orchestral gratification
Great price
Full individual sections with all basic articulations covered
In-depth programming for ostinato
Large and impressive range of presets
Includes samples from both of the add-on specialist packs from The Orchestra line
CONS
Not the best for long articulations
Factory presets are all in common time
The sample character might be too pristine and normal for some
Should it feel this easy?!
This latest release from Sonuscore is truly an instant orchestra at your fingertips!  If you're just starting out or if you need to compose at light speed, The Orchestra Essentials is precisely what you're looking for.
Jump to the Videos of The Orchestra Essentials by Sonuscore
Jump to the Demos of The Orchestra Essentials by Sonuscore
Review: Sonuscore's The Orchestra Essentials by Best Service
A couple years ago, Sonuscore released The Orchestra Complete and created a full orchestra niche that offered impressive and instant results. Their accompanying specialist packs, Horns of Hell and Strings of Winter, soon followed and added further depth to the product line. The combination of realistic samples and already arranged parts, without using pre-recorded phrases, certainly made for a super speedy and easy workflow. Building on the success of this has led Sonuscore back to the basics and now we find ourselves with The Orchestra Essentials – a beginners package that aims for ultimate playability and inspiring results.
Sonuscore's The Orchestra Essentials normally sells for $99 from Best Service.
Thoughts
With an extremely attractive price, the slimmed-down version is obviously not as in-depth as the full pack, but we still get a full array of orchestral elements, albeit with certain limitations. In a nutshell, that means fewer articulations and some features not available, such as MIDI export. However, all the main orchestral articulations, like sustains, staccato, pizzicato, and marcato, are here.  Likewise, all the most common orchestral instruments such as the strings, brass, and woodwinds are on show, with notable omissions of the tuba and piccolo. For keys, there is a harp and organ. The choir and percussion are very pared back, with the former only offering female choir and the latter only glockenspiel and timpani (though tubular bells are in the menu, it does not work in the version I had for review).
For anyone familiar with the more typical way of presenting orchestral elements, with a separate patch for each instrument, it is worth being aware that The Orchestra Essentials takes a very different approach. It is primarily geared for playing an entire orchestra all at once, using simple chords. By merely playing a sequence of triads, the instantaneous results are quite outstanding. In fact, I have yet to find anything that works quite as quickly or intuitively. It centers on up to five pre-arranged instrument groupings that are clearly displayed on the main page.
Main Page

The instruments and articulations are selected by clicking on the Instrument Slot name, which opens up a menu displaying all possible choices. This can also include an empty slot should you wish to create a more minimal arrangement.
Back on the main page, it's a cinch to shift the octave and also to change the Engine Slot. For sustains, this will be either envelope 1 or 2 and for shorts, arpeggiator 1, 2, or 3. You can program those by going to the second main page titled 'Engine' which will reveal some detailed options to play with.
The arpeggiator is very comprehensive, offering a whole range of rates, note orders and repeats in order to fully customize your pattern. A clever note selection box can be configured to only play certain notes in a chord, which is very useful, for example, in ensuring that the lower notes don't sound too thick. Below that is a rhythm sequencer which is essential for dialing in authentic, realistic intensity variation. The pre-assigned modwheel works on a macro level that will proportionally increase all those micro-adjustments in the rhythm sequencer. The two envelopes are equally intuitive and allow the user to draw in a very precise velocity curve and select the speed and length of it. Any of these five engines can be assigned to any of the five instrument slots; resulting in everything from complex polyrhythmic interplay to powerful tutti playing.
The Mixer is the third and final page of the slickly laid out GUI. This is where you will find all the controls for volume, pan, reverb send, and outputs.
The effects are global and offer limited options for detailed modification, but honestly, the sound out of the box is so balanced and pleasant, it's not a big deal and many people will default to their own third-party EQ, compression, and reverb anyway.
In use, the library feels like playing a phrase library, but under the hood, it is very customizable. With such an approach, good presets are vital, either for instant use as they are or as good starting points for making your own unique arrangement. Happily, Sonuscore score big points for this! Clicking the main preset name will bring up a sub-menu of 99 varied patches.
They are divided into Orchestral Colours (various sustained instrument blends), Orchestral Rhythms (basic short patterns), and Animated Orchestra (complex, emotion-led blends of sustains and shorts). The latter really shows off the wonderful blend of different sections and the power of the sequencing engine. Many of the presets give instant gratification that almost make it all feel a bit too easy. On that note, it can feel like too much is already done for the user.  As a potential beginner's introduction to orchestral composition, it might not lead the user to fully understand how to program effectively, should they move to a more traditional orchestral library down the line. In terms of having to pass anything to an orchestrator for live playing, it would be a real brain-mash to figure it all out! On the other hand, it does lead the way to be able to easily experiment and discover how different orchestral sections blend best (eg. violins and flutes). It's worth noting that in this stripped-down Essentials version, all of the presets are only available in common time.
The samples were performed by the Budapest Art Orchestra with a smaller number by the Mongolian State Morin Khuur Ensemble. They were very nicely recorded and well-edited. The sound is somewhere between pure classical and modern film score. This fairly safe approach is echoed in the ambience, which is right in that Goldilocks zone with a medium-sized and controlled studio ambience, as opposed to a concert hall. This does make it work well with the various convolution reverb options available on the mixer page. I found the sound decent, but not stunning.  There's nothing wrong with it per se, it just lacks a bit of character and, on occasion, comes across as a little plasticky and robotic sounding. I did find, though, that it was much better when everything played together, rather than in isolation, and also using the humanize control (click the cog on the Main page), loosened up the arpeggiators nicely.
For longer more lyrical playing, it feels a touch lacking in dynamic range and there is no legato option, so ultra-real soaring melodies are not its forte. By contrast, I found it really shines with ostinatos, in particular, giving animated and smooth results.  I will definitely be trying that out in this context by layering it with my regular orchestral samples.
Obviously, there will be compositional limitations using The Orchestra Essentials, not just in the lack of more instruments and articulations, but in the manner in which it is designed, which relies heavily on fixed patterns within Kontakt. With only the modwheel employed for variance, it is a little like constructing your piece with orchestral loops. Of course, you can deactivate the engine part and play both longs and shorts as would be typical, but that kind of defeats the main USP of the library.
For instant sketching of both simple and complex full orchestral music, given the right blend of instruments and sequencing from the innovative engine, this library does work superbly. With this in mind, it certainly has appeal to seasoned composers required to work quickly, though it's really marketed to beginners and for those who want a slice of instant orchestral glory. In that regard, the playability, coupled with a decent degree of possible customizations, makes it a real winner. The fact that it is made for the free Kontakt Player only increases how accessible it is for any newbie composers. For users who like the taste of Essentials and then want to dive deeper, Sonuscore offers some tempting upgrades to both The Orchestra and The Orchestra 2 Complete.
Facts
The Orchestra Essentials is nearly 6 GB in size and comes with 99 ensemble presets. There are 38 string, 12 brass, and 12 wind articulations plus percussion and choir.  It is made for the Kontakt Player so you don't have to own the full version of Kontakt to use it.
Sonuscore's The Orchestra Essentials normally sells for €99 from Best Service
Demos of The Orchestra Essentials by Sonuscore
Videos of The Orchestra Essentials by Sonuscore
Contributor Sam Burt reviews The Orchestra Essentials by Sonuscore
"This latest release from Sonuscore is truly an instant orchestra at your fingertips!  If you're just starting out or if you need to compose at light speed, The Orchestra Essentials is precisely what you're looking for."