Review miniBit 8 bit chiptune plug-in from AudioThing
ALL LINKS FROM 8 BIT CHIPTUNE • 5 UNDER Episode 4
Jump to Sample Library Review Patreon Page
Jump to the Demos of miniBit from AudioThing
Jump to the Official Videos of miniBit from AudioThing
Review miniBit 8 bit chiptune plug-in from AudioThing
With miniBit you get loads of presets and dozens of controls to sculpt the 8 bit /chiptune instrument of your dreams.
The Facts
With miniBit AudioThing has designed an 8-bit/chiptune style synthesizer emulating sound 80s game consoles and retrocomputers.
The Plug-In loads right into your DAW as an AU/VST/AAX and doesn't require a sample player.
miniBit contains a main oscillator with 15 waveforms with a sub oscillator (a square wave pitched one octave below) to give you that retro chiptune sound.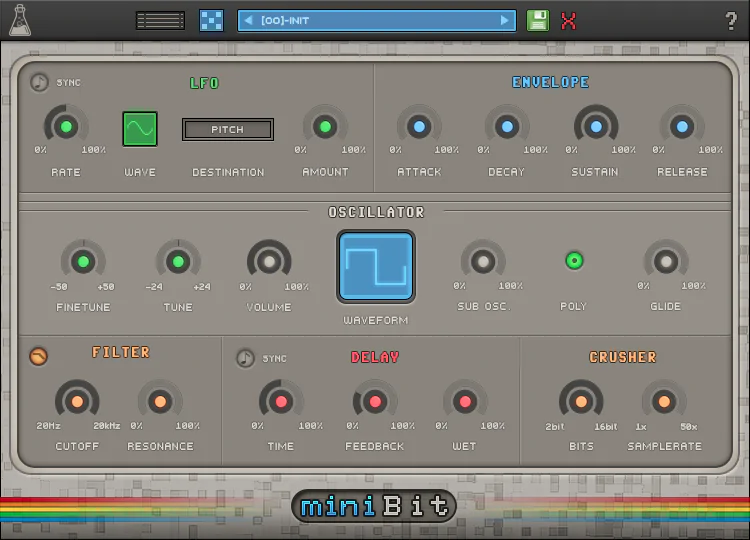 The waveforms are not bandlimited and will produce aliasing. Furthermore, using the built-in bitcrusher, you can create even more noisy and retro sounds. The new version also features a synced 8 Steps Stepper/Sequencer with multiple destinations.
miniBit will allow for both Poly and Mono mode playback (allowing Glide), contains effects including 2-poles LowPass/HighPass Filter,
Delay and BitCrusher effects and an LFO with multiple destinations.
One of the fun parts of playing with miniBit is the 8 Steps Stepper which allows you to control 6 parameters including pitch, Volume, filter and more.

miniBit comes with 50 Presets and anywhere you se the "die" you are able to randomize paramters.
miniBit is available from AudioThing for $20.00
Official Demos of miniBit from AudioThing
Videos of miniBit from AudioThing