Review: Lyric Series String Quintet by Kirk Hunter Studios
PROS
Extremely tweakable instruments
Rich, full tone to each instrument
Exceptional vibrato control
Very playable and lyrical
Easy to navigate GUI
Attention to detail through human touches and the fact everything can be adjusted to taste.
CONS
Quite learning curve
Requires a good level of programming to get a life like performance
Kirk Hunter have released their Lyric Series Quintet solo string library promising a great sound and a plethora of instrument options. The set is comprised of three types of violins, two cello and one viola which make up a quintet in any desired combination. Kirk Hunter have a reputation for lush sounding string libraries and with their first solo string library for many years, does this live up to the reputation?
Jump to the Videos of Kirk Hunter Lyric Series Quintet by Kirk Hunter
Jump to the Demos of Kirk Hunter Lyric Series Quintet by Kirk Hunter
Review: Kirk Hunter Lyric Series Quintet by Kirk Hunter
The library is comprised of six NKI files which has a total footprint of 1.51GB.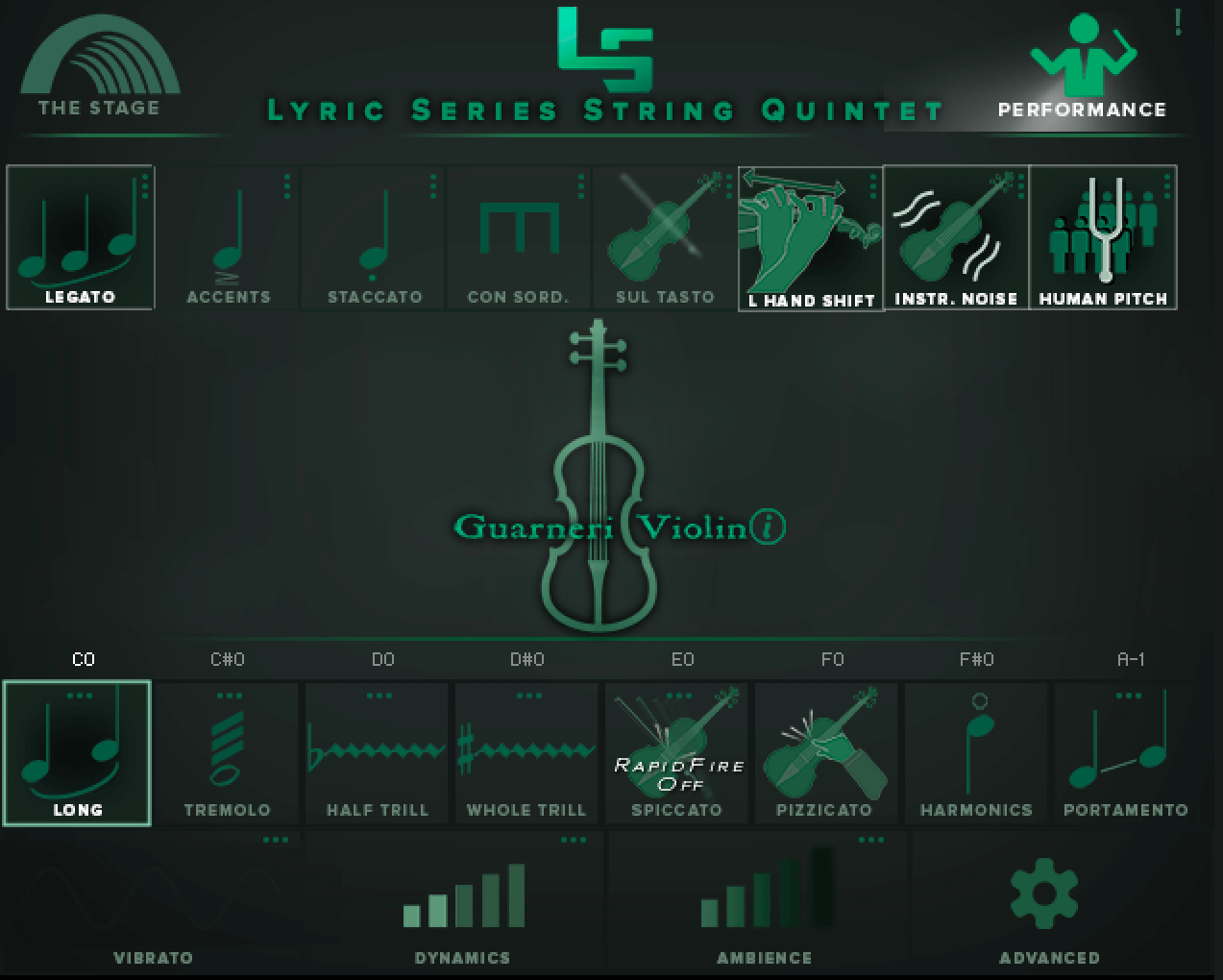 While this is very small, each instrument has an impressive range of articulations and techniques. These are namely legato, staccato, con sord, sul tasto, half trill, whole trill, spiccato and pizzicato. There is a great portamento technique included which is operated via a keyswitch. In fact, each articulation can be changed using keyswitches while also having other functions such as temporarily halting vibrato. Clearly, a lot of thought has gone into the instrument design and it certainly upon first impressions lives up to the claims of being very tweakable.
Kirk Hunter Lyric Series Quintet sells normally $399.99 from Audio Plugin Deals
Thoughts
Before looking into the instrument deeply, the GUI always gives the first impression. Firstly, the GUI is clear, and you can instantly tell what is going on. Without using the instructions or walkthrough videos, I found myself easily navigating through the different pages and knowing where everything is. Personally, I like the green and grey colour scheme, yet it may not be for everyone. A GUI is supposed to serve one purpose and that is to be clearly functional. This is clear, bold and very easy to use.
Starting with the Benning Cello, out of the box the tone is rich, bold and has a lot of bite. Each of the instruments, as pictured, has a great information screen talking about it's heritage and other facts. The legato is responsive, and I found myself playing melodies quickly. The instrument is very flexible and playable yet to my ears there are some initial concerns. Firstly, the dynamics are extremely sensitive and change in velocity, the instrument volume wildly fluctuates. Yet this is not a wild change in velocity, just through the natural playing of my midi controller.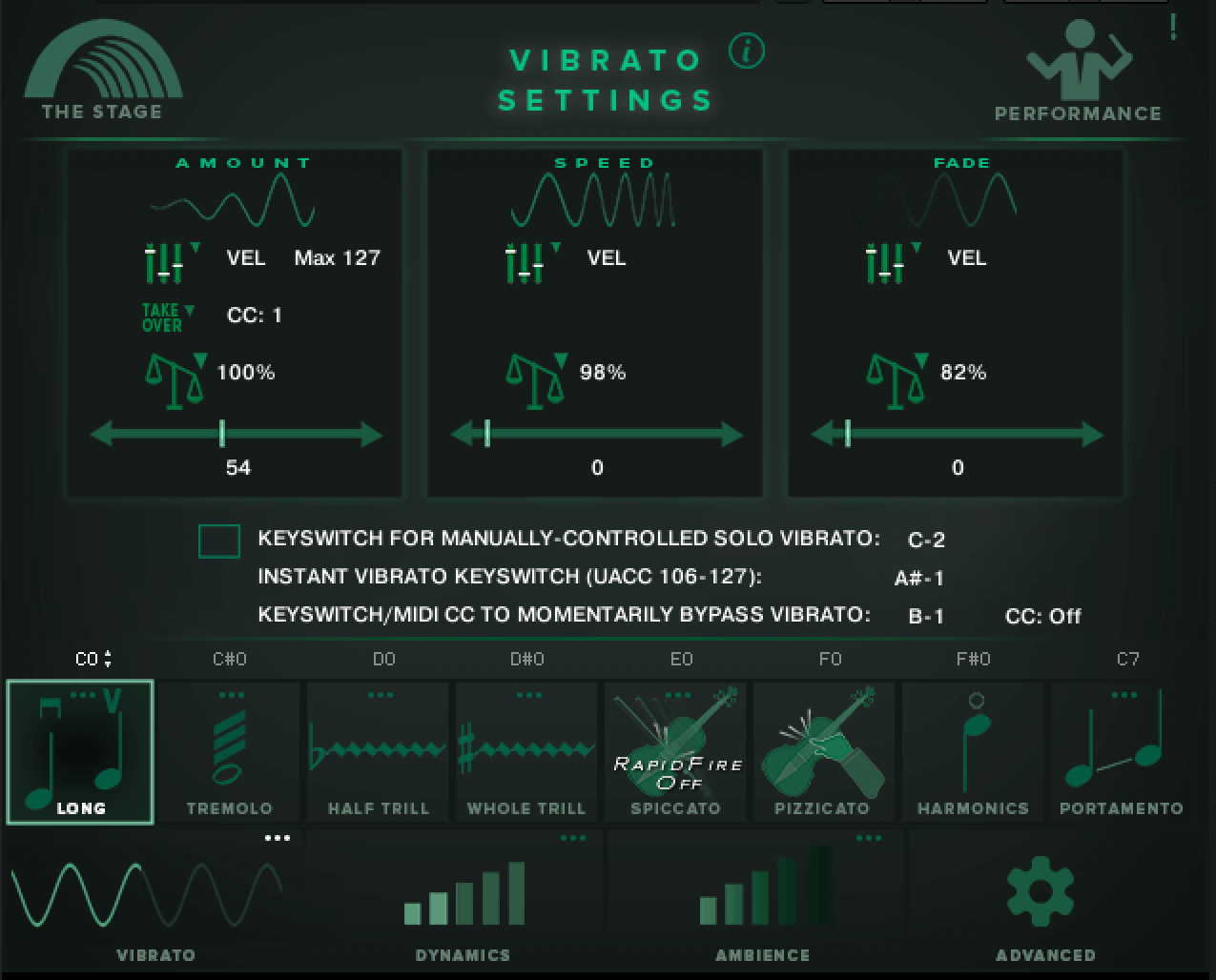 Secondly, the vibrato, which is mapped to the modwheel, it incredibly wild and erratic. In the GUI, when you are using vibrato, you'll see the length and speed change which is a very nice touch, but also shows how sensitive it is. The inclusion, however, of a vibrato control is a must have in any string library. So there is a positive! With this in mind, it sounds like I am being negative, yet this is all a build up to what makes this instrument in my opinion, excellent. Every single little nuance of each articulation or general instrument timbre can be adjusted right down from the instrument noise to the portamento speed. Each articulation and playing technique has three dots next to it which opens the option screen for that specific part of the instrument you want to tweak.
My biggest concern of solo string libraries is how well the vibrato is scripted. Some have automated vibrato where I've heard some great examples of this, yet over time the playing becomes more homogenised and less expressive. Here, you can adjust the vibrato to taste. There are three controls, the amount, the speed and the fade. The amount and speed are controlled via the modwheel and you can adjust the strength of these in percentages. After a small amount of tweaking, I found a great, lyrical vibrato which has the ability to go from slow and subtle to wild and lyrical. Then I noticed there is a keyswitch to temporarily halt all vibrato when held down and re-apply vibrato according to the fade settings when released. This mean more vibrato control and therefore more expressive playing. This made the instrument instantly more useable and a step closer to a more natural performance. It's a really great selling point and makes the performance far more professional.
The sudden jumps in volume was the next concern to tackle. A quick click on the options and I was able to turn down the velocity sensitivity, so the instrument became more even. Straight away, the cello was singing these great melodies in one of the 15 ambience locations. This essentially is the reverb control, so I took this as an opportunity to see how dry the strings were recorded. With ambience turned all the way down, it became clear the instruments have a very dry sound. Again, this is a huge plus as blending with other libraries becomes straightforward. In short, my first impressions of decent sounding strings with a fairly erratic playback have now been replaced with expressive strings with a great timbre and expressiveness.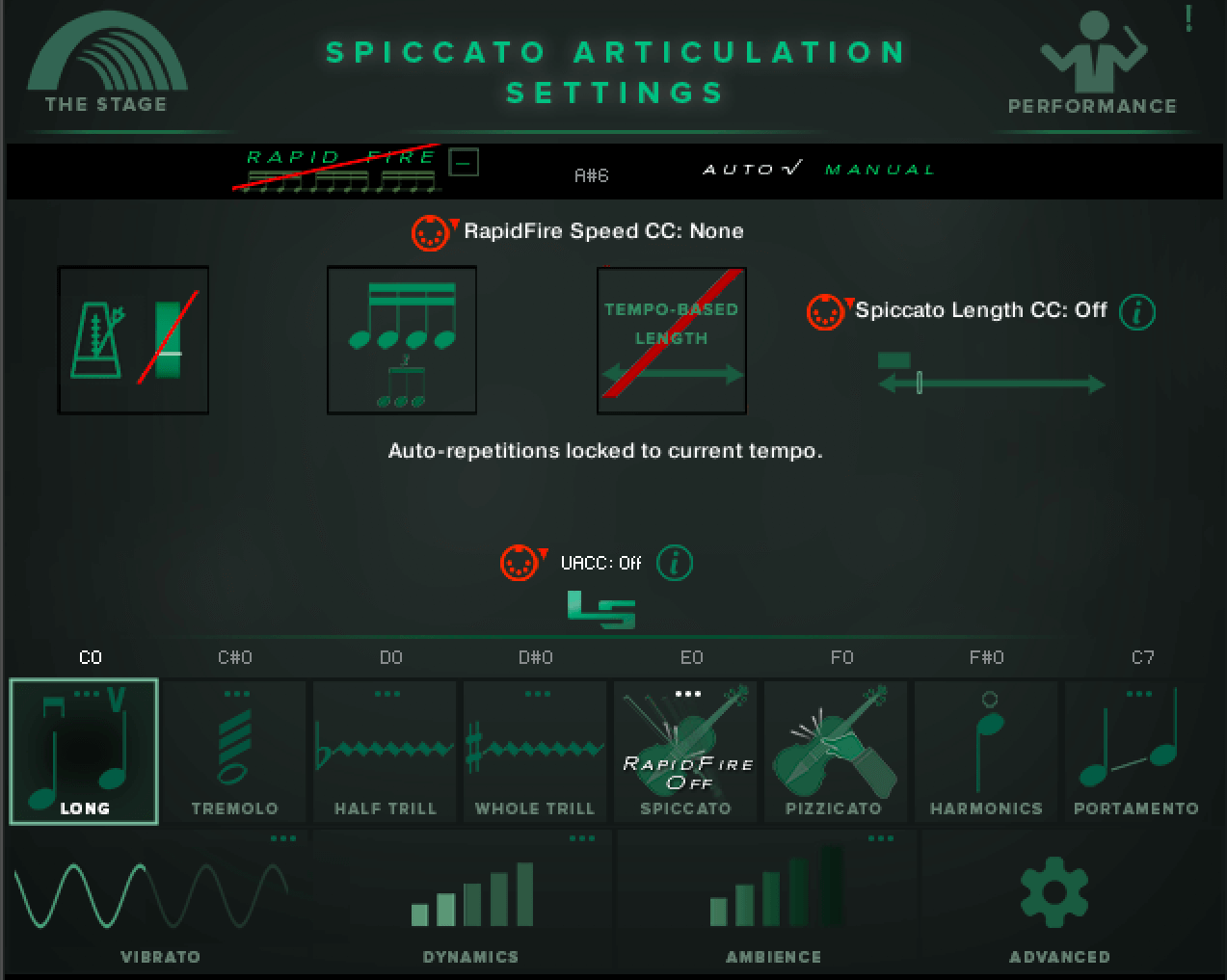 Moving through the articulations, the tremolo is accurate and has both a normal and sul pont version. The half and whole trills again are tempo accurate and can have their fade in adjusted. A new feature is the "rapid fire spiccato" which when activated will play precise tempo synced ostinato. The rhythms can be changed as can the spiccato length. It can be placed on a keyswitch or a different midi CC as you wish. Of course, when deactivated you have a single spiccato note. The pizzicato has great attack while the harmonics are full bodied and rich. The portamento setting is expressive and easily controlled, with this and each other articulation available on a keyswitch. So, there are no extended techniques, but there is enough here to create very expressive solo passages.
At the top of the GUI, there are two more tabs. The first is the "stage" which is where you can position your soloist. When building your quintet, you can arrange them in the correct formation which brings realism to your ensemble. The other tab is the "performance" where you can select your bow technique and even the instrument noise and microtonal human realism. These can both be turned off yet they are nice touches and add to the realism.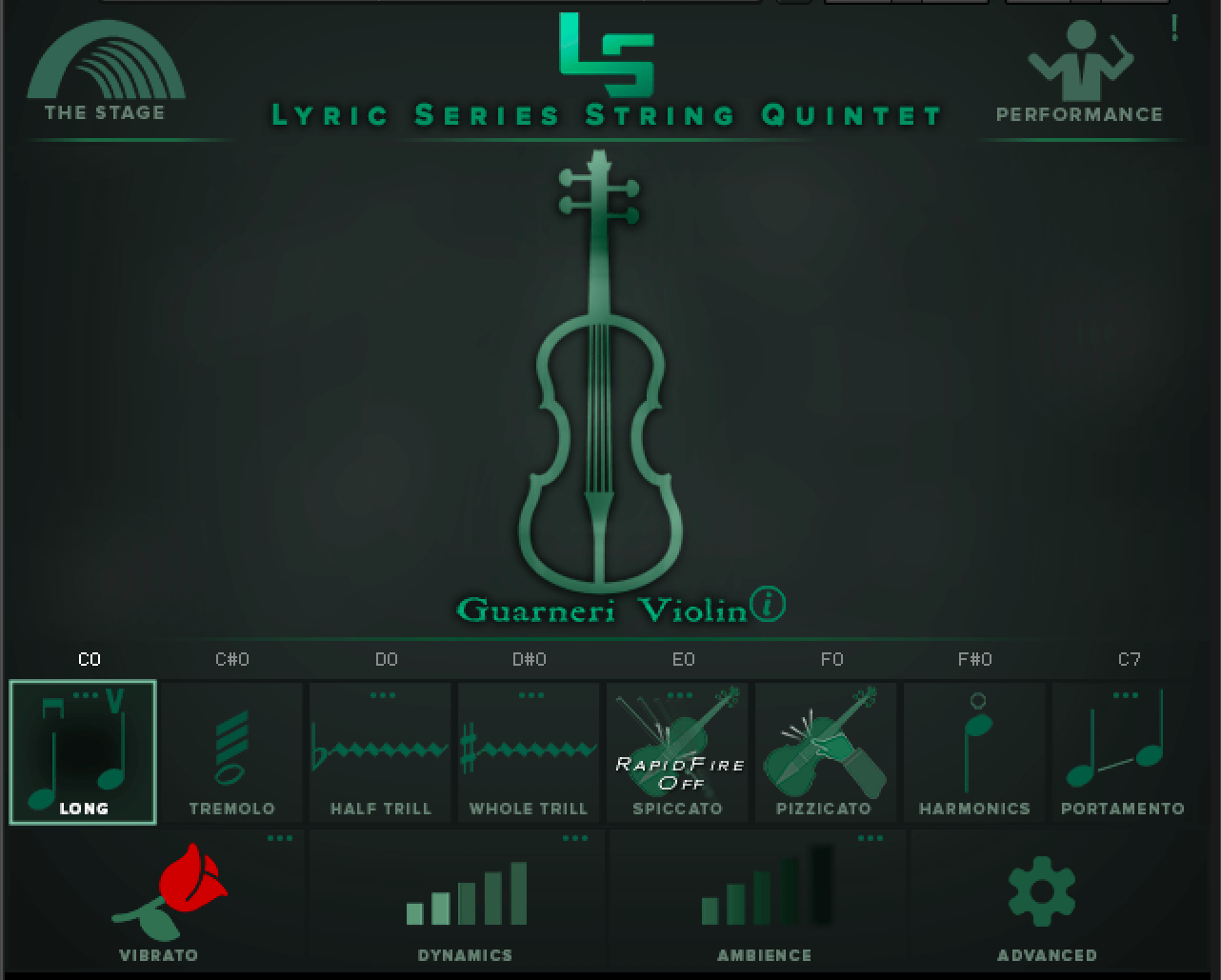 Now that I understand the instrument I set about playing the variety of violins, cellos and the single viola. All have a rich and expressive timbre in common and all are highly playable. The only drawback is that they all have the same need to be heavily tweaked before they can be composed with. So while the features are plentiful and effective, there is a learning curve and they need time to be set up. Of course, once set up and put into a template, only minor adjustments would need to be played.
I used these strings in several scenarios and found they flourished the most as a quintet ensemble or when adding definition to ensemble string lines. They are more than capable of performing intricate solo passages yet would require a good amount of programming and keyswitching. This is a necessity if you want more natural results and a more playable instrument. The demos on the Kirk Hunter website are very real sounding to me so they show the potential this library has.
In conclusion, I was not initially blown away by the string quintet out of the box. The more I tweaked, persevered and played around with them I found a series of highly playable, expressive instruments that can be used in a number of situations. I have since used the Kirk Hunter Strings in a number of cues and found the overall results to be very pleasing. With more time, I'm sure their true potential will be unlocked. Provided you are happy with a learning curve, the overall timbre of the instruments and the programming that you'll need to do to achieve a realistic solo string performance, I think these are an excellent addition to any composers string collection and are recommended.
Facts
Downloads at 1.51GB
Contains 6 NKI files
Two cello, one viola, three violins
Requires Full Kontakt 5.7.1 or newer
Kirk Hunter Lyric Series Quintet sells normally $399.99 from Audio Plugin Deals
Demos of Kirk Hunter Lyric Series Quintet by Kirk Hunter
Videos of Kirk Hunter Lyric Series Quintet by Kirk Hunter
Contributor Pete Checkley reviews Kirk Hunter Lyric Series Quintet by Kirk Hunter
"Kirk Hunter have released their Lyric Series Quintet solo string library promising a great sound and a plethora of instrument options. The set comprises of three types of violins, two cello and one viola which make up a quintet in any desired combination. Kirk Hunter have a reputation for lush sounding string libraries and with their first solo string library for many years, does this live up to the reputation?"