Review: Journey to Arcturus for Omnisphere 2.5 by APSD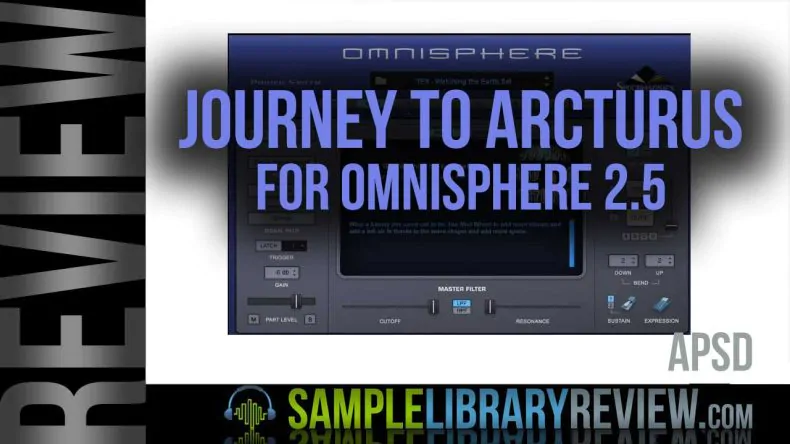 PROS
Beautiful otherworldly patches
Textures are one-note scoring machines
Basses are rich and deep
Very cool FX – perfect for sci-fi work
Several unique BPM patches that feature varying time signatures
Great leads, pads, synths, and keys
CONS
Focused soundset will not be for everyone
Journey to Arcturus is an otherworldly soundset for Omnisphere 2.5. From basses and keys to pads and drones, this soundset is perfect for composers looking for original sounds that are beautiful, ethereal, and mysterious. This is a perfect soundset for sci-fi scoring.
Jump to the Videos of Journey to Arcturus for Omnisphere 2.5 by APSD
Jump to the Demos of Journey to Arcturus for Omnisphere 2.5 by APSD
Review: Journey to Arcturus for Omnisphere 2.5 by APSD
APSD (Allen Polley Sound Design) has created a beautifully original product with Journey to Arcturus. This 128 patch soundset for Omnisphere 2.5 includes high-quality basses, textures, drones, and more that beckon you to journey into the beyond. While this soundset could be a complete toolkit for an epic sci-fi movie, these sounds could also easily find a home in ambient music and electronica and even more. If you are looking for a fresh, original, and otherworldly soundset for Omnisphere 2.5 check out Journey to Arcturus.
Journey to Arcturus for Omnisphere 2.5 sells for $20.00 from APSD
Thoughts
Arcturus is a red giant start in the constellation Boötes and is one of the brightest stars that can be seen from Earth. As such, this mysterious distant star is the perfect inspiration for this other-worldly soundset by APSD (Allen Polley Sound Design). Journey to Arcturus is a collection of 128 patches for Omnisphere 2.5 that audibly evoke the mystery and wonder of this distant star. As I played through each patch of this sound set, I found myself thinking over and over "this would be the perfect soundset for scoring a film set somewhere in outer space or on a distant planet." These sounds are rich, deep, and ethereal and you can tell a lot of love and care has been invested in them. One of the first things I always do when working with a new Omnisphere soundset is to rank each patch using Omnisphere's star rating system. This is my "gauntlet" of sorts for determining how good the soundset is and helps me better find what I'm looking for when I'm in the midst of composing a track later. Out of the 128 patches here, I ranked 58 as being either 4 or 5 stars. That means almost half of the patches here are either above average or excellent. A score of 50% might not sound great to the average person, but in the world of soundsets that is a high mark indeed! Most soundsets seem to have a small number of "can't miss" patches and I find many to be repetitive and too much like other patches I own. That is not the case with Journey to Arcturus. These sounds are unique and very usable.
Journey to Arcturus includes the following categories: Bass, Bell, BPM, Drone, FX, Guitar, Keys, Lead, Pad, Perc, Pluck, Strings, Synth, Textures, Vocals, and Winds. So many of the sounds here make excellent use of the modwheel.
While many soundsets only use the modwheel to make modest adjustments to a patch, many of these sounds completely change with the use of the modwheel.
I found the basses to be deep, rich, and ambient. The drones are a source of instant inspiration. Some have a gorgeous ethereal quality while others are mysterious and can even be a little creepy. There are several unique BPM patches that feature varying time signatures. The FX are VERY cool and would be perfect for a sci-fi flick. Some of the keys sound like they are based on a cathedral organ and would belong in something like the movie Interstellar. The leads are otherworldly and just plain cool. The pads are somehow both icy and warm at the same time. The textures are some of the best sounds in the set. You could literally score entire scenes by holding down a single note. These textures could have a number of uses, but I think would be perfect for scoring a sci-fi film; especially a "waking up" scene where the protagonist finds herself on a distant unknown planet.
I'm a space buff who often stands in wonder at the sheer vastness of the universe. Journey to Arcturus sucks me right in and makes me want to take my own interstellar journey. I am impressed with Journey to Arcturus and I think composers looking for ethereal, beautiful, mysterious, and other-worldly sounds will be as well.
Facts
Journey to Arcturus by APSD is a 128 patch soundset for Omnisphere 2.5. It is a 692 MB download. Journey to Arcturus can be purchased from APSD for $20.
Journey to Arcturus for Omnisphere 2.5 sells for $20.00 from APSD
Demos of Journey to Arcturus for Omnisphere 2.5 by APSD
Videos of Journey to Arcturus for Omnisphere 2.5 by APSD
PROMOTIONAL POST GENERATOR
Contributor Raborn Johnson reviews Journey to Arcturus for Omnisphere 2.5 by APSD
"Journey to Arcturus is an otherworldly soundset for Omnisphere 2.5. From basses and keys to pads and drones, this soundset is perfect for composers looking for original sounds that are beautiful, ethereal, and mysterious. This is a perfect soundset for sci-fi scoring."