Review Fog Convolver from Audiothing
PROS
So much more than a reverb plugin. Easy to use and sounds great. The creative effects are sure to inspire users.
CONS
Probably won't replace my hi-end reverb plug.
Jump to Official Demos Using Fog Convolver 

Fog Convolver from AudioThing
First Thoughts
I am a big fan of AudioThing instruments. The developer makes unique yet usable libraries that sound great, are inexpensive and have delivered for me on a number of occasions (including the Toyota promo film I won the 2013 Hollywood Music in Media Award for!)
Fog Convolver is Audiothing's new effect plugin that uses impulse responses to manipulate sounds. When I think impulse responses I think reverb. But Fog Convolver is so much more that that. It is inspiring and unexpected how much manipulation you can get by working with the plugin.
The Facts
Fog Convolver is a convolution plugin that applies the aural character of the loaded impulse response to the sound you run through it. The plugin works in as a AU, VST2, or AAX 32-bit or 64-bit host.
An impulse response is a sound recording. I am familiar with impulse responses as recordings that capturing the character of an acoustic space. With Fog Convolver AudioThing has captured over 250 impulses included as preset impulse responses. These allow you to to add reverb, create effects and manipulate audio in unexpected and inspiring ways.
The 250 impulse responses included with the plugin have been created by capturing the character of spaces, analog and digital equipment, speakers, organic sources, electronic gear, spark, pistols, popping balloons and so much more.
The plugin is easy on your ram and has a pretty small footprint. For sound designers and those looking for a new approach to convolution, Fog Convolver is very affordable retailing for $75.00 (USD) at AudioThing.net
Interface & Controls
It's one thing to have a nice convolution plugin that you can load impulses responses into, but Fog Convolver is so much more.
The effects plugin offers controls you would expect (pre-delay, wet, dry, hi & low pass) as well as some extras that make all the difference (stretch, start & end truncate, start & end fade in and curve) AND a handy Rev button (which flips the impulse in reverse).
On top of that Fog Convolver shows you the wav form in the center of the interface, and allows you to listen back to the actual sound of the impulse response you have loaded with the handy PLAY button.
There is also a "Randomize" button that will randomly set all your controls for you.
You also have a "more" button which gives you access to Global Settings. The Global Settings allow you to configure a number of settings including head and tail bock buffers. Dividing the processing into 2 different section is the secret in the sauce that allows Fog Convolver to be such an efficient plugin to provide real-time effects allowing great performance from your CPU.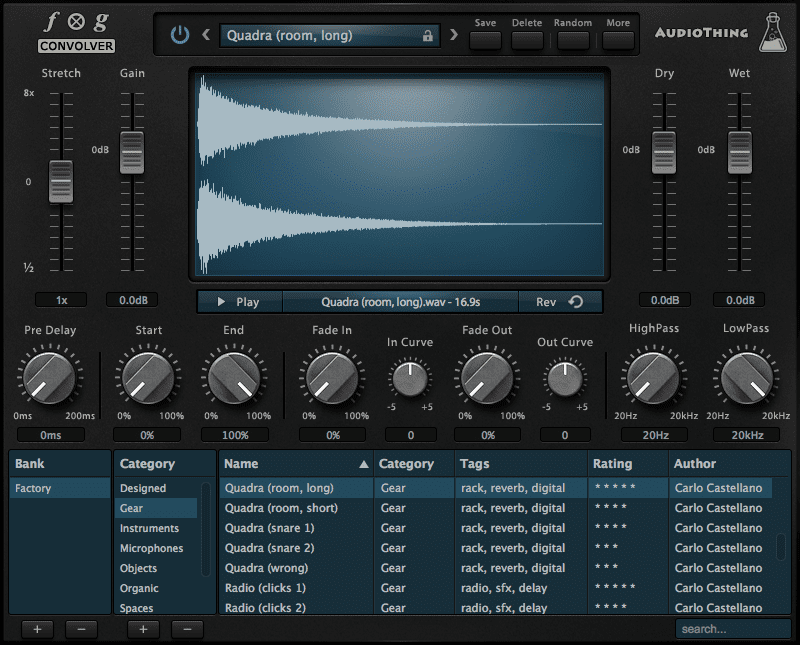 Wrap Up<
It's one thing to have a nice convolution plugin that you can load impulses responses into but Fog Convolver is so much more.
Wonderfully useful for sound designers and musicians alike fog convolver is an easy to use plugin with loads of controls. Now Fog Convolver most likely won't replace my hi-end orchestral reverb impulse response plugins but I have already started using it regularly as an effects plugin to get unusual effects (like turning a regular piano instrument into a beautiful pad sound) and really shines as an inspirational tool.
Official Demos Using Fog Convolver