Review: Evolution Dragon by Keepforest (currently 81% OFF)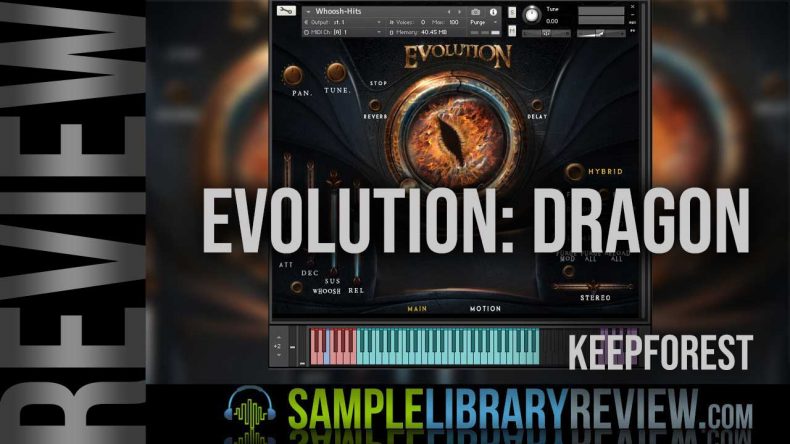 PROS
Onboard ADSR, EQ and Effects
Master Hybrid Control Knob
LFO control for Volume and Pan
Arpeggio style sequencer, Gate, Pan and Filter
Short and long Whoosh/impact sampling
INIT Patch for custom mapping
Extremely customizable
CONS
Small GUI
No custom start/stop sample editor
No global controls for each effect
Older library with some dated samples
In the world of Hybrid Scoring, Evolution Dragon shows why it's still an Apex Predator!
Jump to the Videos of Evolution Dragon by Keepforest
Jump to the Demos of Evolution Dragon by Keepforest
Jump to the SLR Quick Look of Evolution Dragon by Keepforest
At the time of posting, Evolution: Dragon by Keepforest is currently available for €26 (reg €134) until Feb 24, 2022

Review: Evolution Dragon by Keepforest
Evolution Dragon is the first sample library created by developer Keepforest back in 2016. Geared for hybrid composers in the TV/Film and Game industries. While other libraries of the time simply provided samples, Dragon let you transcend into something more. Packing 3.6GB of content including Bramms, Hits, Whooshes, subs impacts, and more, Dragon gives you rhythm and tonal content to write complete compositions from beginning to end.
Keepforest's Evolution Dragon normally sells for $149 from our friends at Plugin Boutique
At the time of posting, Evolution: Dragon by Keepforest is currently available for €26 (reg €134) until Feb 24, 2022

Thoughts
Evolution Dragon is more than just a goodie box of trailer and sound design samples. It's an actual instrument. One that has kept composers coming back to for years because of its customization capabilities. Yes, it has a fair amount of sounds popular pre-2020, but its minimal CPU and RAM footprint allow the onboard effects to mangle, twist and saturate beyond the original samples creating something entirely new.
Evolution Dragon gives you two really important folders called the rhythm and tonal folders. Housed inside are a plethora of great sounding and highly useful tools that help create your leads, bass, chorus, percussion, and hooks. It's these folders that stand out because of how well they blend with the main hybrid patches and newer libraries. The rhythm folder houses the pulse designer which gets your rhythmic inspiration going with tons of samples and Two octaves of tonal control. The Tonal folder gives you Guitars, Basses, Plucks a scoring piano, and more.
Demo using Evolution Dragon by reviewer Nick Rivera (Scoreonyx)
Evolution Dragon is a well-thought-out and well-sampled library. It has been a staple for many composers including myself for years because of how complete it is. It transcends hybrid scoring and can be used for genre-bending pop music as well.
This library will harken back early pioneers like Nine Inch Nails, Massive Attack, and Glitchmob to name a few. It's the perfect blend of modern cinema and industrial rock that finds its way into trailer music, films, and games today. I would have liked to see a global control for the effects sections rather than dialing in individual effects. The GUI is crowded and cannot be resized. Functions and names abbreviated and dials are hard to read. In summation, Evolution Dragon is wickedly customizable and still relevant in today's market. It's extremely affordable with minor imperfections and will have you composing straight out of the box in no time!
Facts
.WAV FORMAT, 44.1KHZ / 24BIT
3.6GB OF CONTENT
OVER 120 KONTAKT INSTRUMENTS
FULL VERSION OF KONTAKT 5.5.1 OR HIGHER (NOT COMPATIBLE WITH FREE KONTAKT PLAYER)
Keepforest's Evolution Dragon normally sells for $149 from our friends at Plugin Boutique
At the time of posting, Evolution: Dragon by Keepforest is currently available for €26 (reg €134) until Feb 24, 2022

Demos of Evolution Dragon by Keepforest
SLR Quick Look of Evolution Dragon by Keepforest
Contributor Nick Rivera reviews Evolution Dragon by Keepforest
"In the world of Hybrid scoring Evolution Dragon shows why it's still an Apex Predator!"