Review: Century Harps by 8Dio
PROS
Good detail and control over two notably different sampled Harps.
A very flexible and intuitive Glissando patch for each harp that gives realistic results.
CONS
Loading times suffer along with the rest of the Century series.
No dynamic Crossfade on Bisbigliando (tremolo) articulation for swells.
Century Harps follows in the footsteps of the rest 8Dio's Century series by offering an Impressive amount of detail and care to deliver a very realistic rendition of its subject instrument.
Jump to the Videos of Century Harp by 8Dio
Jump to the Demos of Century Harp by 8Dio
Review: Century Harp by 8Dio
The third entry to 8Dio's Century series scales back a bit to take a more focused approach, but without losing any of the detail of the previous entries. Century Harps consists of two different instruments – a mellow and pure Lyon & Healy Concert Harp, and a sharper and brighter Venus Concert Harp. There is a tremendous amount of detail in these samples, making them very useful for creating realistic harp mockups. Despite this product crumbling a bit under its own volume of samples via long load times, it is a well put together and lovingly crafted library.
Century Harp sells for $248.00 from 8Dio
Thoughts
Century Harps uses the same clean and simple interface as its predecessors in the series.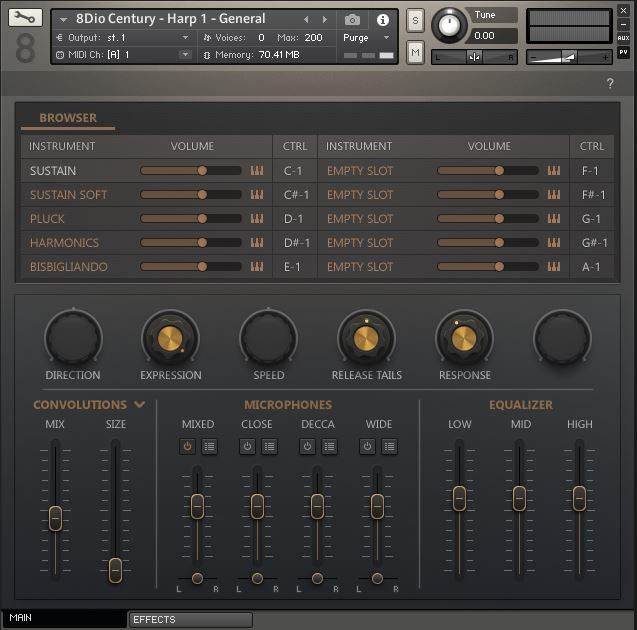 The top half of the main panel is dedicated to articulations. This time, since there are a lot less articulations than the other Century libraries, all of them laid out already into the keyswitch slots. The general patches include Sustains, "Sustain Softs", Pluck, Harmonics, and Bisbigliando (which is Tremolo, not a Hobbit's name). Each slot can either be a keyswitch, or a CC channel value, switchable by the little piano icon beside each volume slider.
The knobs across the middle are as follows:
Direction – changes glissandi between ascending and descending.
Expression – Controls CC11.
Speed – Changes speed of glissandi.
Release Tails – adjusts the volume of release samples.
Response – Changes the velocity response curve.
Down at the bottom we have control of a convolution reverb's mix and size, 4 mic options (mixed, close, decca, and wide) with volume and panning, and a basic EQ. The convolution reverb's IR can be chosen through a drop-down menu, and the mics can be assigned to different Kontakt outputs as well.
The FX panel is also the standard Century series rack with a Phaser, EQ, Degrader, Delay, Transform, and Reverb. All of them come with presets and plenty of tweakable parameters. While the focus of the Century series is detailed and realistic instrument recreation rather than creative sound design, an FX rack like this is always welcome.
Something that is very nice about Century Harps is that everything was done twice. There are two different harps at our disposal here – one that is mellow and softer, and one that is brighter and cuts through more. Having them both available gives us a very natural solution when composing either for solo harp, or in a more busy and dense context. Rather than processing with EQ and compression, having the option of a pure and raw sampled harp that was designed to sound mellow or bright makes it easy to start with the right sound.
With simple sustains, plucks, harmonics, and tremolo articulations, the general patches are undoubtedly the most useful, but the glissandi patches are very impressively fleshed out and thought through. The controls on the interface allow you to easily switch between minor, major, augmented, diminished, lydian, and pentatonic glisses while separately controlling speed and direction (up or down). The "TMPro" patches also let you use the pitch bend wheel to artificially slow down or speed up the glisses to hit the spectrum in between the two sampled speeds. There are also a variety of swirls that can be accessed via keyswitches.
While there are a few oddities in the sampling, such as Harp 1 not including Lydian glisses, and no dynamic crossfade for the tremolo patches, there is still a huge amount you can accomplish with this library. Between two different kinds of harp, 3 mic positions, and a good FX chain, everything you need to construct beautiful harp mockups is here.
Facts
Century Harps is a deep dive into the sampling of two harps – A Venus Concert Harp and a Lyon & Healy Concert Harp. There are seven articulations, including glissandi and swirls, per instrument, with over 3000 different glissandi recorded at various speeds, keys, and directions. There are 21,466 total samples and 4 mic positions. These samples all add up to 28 GB worth of disk space once installed.
This library requires the full retail version of Kontakt 5.6 or later.
Century Harp sells for $248.00 from 8Dio
Demos of Century Harp by 8Dio
Videos of Century Harp by 8Dio