Review: Angry Brass Pro Soloists by Performance Samples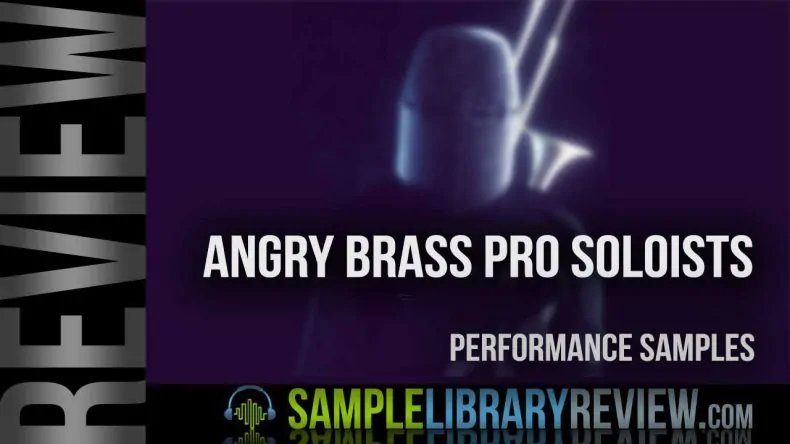 PROS
Powerful brass sound
Amazing playability
Perfect for section overlays
Light on resources
CONS
Single dynamic layer
Niche, limited use
Some phasing, transition sound
Once again, Performance Samples delivers with Angry Brass Pro Soloists which boasts an absolutely massive sound, amazing playability and innovative approach, specifically designed for solos, layering or any track in need of some serious punch.
Jump to the Videos of Angry Brass Pro Soloists by Performance Samples
Jump to the Demos of Angry Brass Pro Soloists by Performance Samples
Review: Angry Brass Pro Soloists by Performance Samples

Angry Brass Pro Soloists is the newest addition to the 'Angry' series that features a powerful brass instrument, lively sample performances and a single playable patch that we've come to expect from the pioneering, indie developer. Great for section overlays, epic music or simply adding a new level of detail and depth to your next music production.
Angry Brass Pro Soloists normally sells for $189.00 from Performance Samples
Thoughts
Angry Brass Pro Soloists is the follow-up to the ensemble library originally released in 2019. After two years of development, Performance Samples continue their series focusing on creating a unique and powerful brass instrument that is ideal for creating huge trailer tracks, energetic action cues or really any other kind of music that needs to be larger than life. In this regard, ABP Soloists has an absolutely massive, and lively sound with great playability, explicitly tailored to cut through a mix, layer with other libraries or simply be used for solo passages. A must own for any serious modern production composer in need of adding some extra presence to their brass template.
The library is comprised of 4 separate patches including Solo Horn, Trumpet, Bass Trombone and Tuba. It consists of all newly recorded sample material that was captured in the same wonderful space as Angry Brass Pro Ensembles, Oceania I/II and Caspian Brass. Each instrument contains only one, very loud fortissimo dynamic layer in order to truly capture that aggressive timbre at which brass instruments tend to peak. That said, the developer also included a full, EQ-modelled dynamic range that almost reaches 'niente' at its lowest level. As one might assume, the niche collection is extremely light on computer resources which is helpful given how large current templates can commonly contain over 200 tracks.
Perhaps the most striking feature of ABP Soloists is it's very large sound which is ideal for modern, epic music. Similar to ABP Ensembles, the soloists feature a lively and raw performance that really gives a sense of drive to any mock-up. To achieve this, everything was recorded in a single session wherein players could feed off each other and share in the palpable vibe much like in a real orchestral session. In turn, this gives a truly balanced sound across the group similar to how actual performers would self-correct in true recordings.
What is really nice about having a soloist library, in lieu of standard sections, is that it gives composers the possibly of layering these instruments as a 'first chair' to give added detail and depth to your tracks. To this, there is actually a subtle but great vibrato layer at the top end of the modwheel. This instantly harkens back to the many, classic Hollywood recordings of the 80's and 90's and is exactly how real film session players would actually play wherein the section lead will give that extra bit of flair to stand-out, if only slightly.
One caveat to this type of release, is the lower end of the library, especially in the trumpets and horns, which can be a bit unstable or wobbly. Undoubtably, this is due in part to phasing from the extended ranges, extreme dynamics and combined performances on sustains. With that in mind however, it should not be of concern since writing parts that low and loud is usually ill-advised orchestrationally speaking.
With regards to the playability, Angry Brass Pro Soloists does not disappoint and certainly improves on the programming when compared with it's 'older brother' in ABP Ensembles. The developer chose once again to go with the single, playable patch which makes mock-ups immeasurably more fun, realistic and more human. By simply playing parts in 'as-is', composers will be able to adjust staccato, marcato and sustain articulations simply by performing or adjusting lengths. The patches respond well under pressure and handle quick repeated figures with ease while also not giving way to the dreaded machine-gun effect. To this point, there are actually now 5 round robins on attacks and releases with 4 different release speeds. In this regard, the Soloists are in fact much tighter in terms of programming and give a more realistic performance compared to older libraries, like Caspian or ABP Ensembles, which can sound a bit cut off at times. Pardon the pun, but one can hope that this innovation continues with all future Performance Samples releases!
It should be noted that there is also a sample delay of about 80ms that is built-in to each patch which can be negated within your DAWs midi playback settings. As well, users should also understand that there is no true legato articulation included though this is generally not very noticeable in a full orchestral context with many instruments playing simultaneously. Of course, users can definitely take advantage of the free-to-use Kontakt from the fantastic Solo Instrument Performance Suite or 'SIPS' in order to get that programmed legato sound if it is so desired.
The user interface is straight-forward and comparable to other Performance Sample releases with a simpler and smaller GUI unlike most modern Kontakt libraries. While the display is rather simple, it includes all of the essential controls you need including microphone volume, mixer, sample delay and a second page with additional control for affecting the velocity dynamic range as well as compression for the high and low registers. It is also refreshing to have a 'no frills' approach to the GUI which can help avoid the tendency to get bogged down with unnecessary control fiddling.
In terms of mixing, ABP Soloists work well in a large virtual hall like most Performance Samples libraries. While the actual samples are quite dry relative to other developers, the recording space blends well with other libraries and users should have no problems getting it to 'sit' within a full orchestral mock-up. The two mic options, while limited, offer enough control to shape your sound and cover wide number of reverb options at the click of a mouse. While limited in it's use, it is invaluable to have a library designed for 'epic music' which can cut through even the densest arrangements without any extraneous effort or post-production on the part of the composer. As one might assume, the library shines when paired with other Performance Samples libraries but also works well as a 'first chair' or additional layer library for added depth, detail and expressiveness.
On the whole, ABP Soloists is a fantastic option for composers looking for that epic brass sound, prevalent in modern trailer music. While it is certainly a niche product, it absolutely delivers on what it was designed to do and does so with a certain swagger to boot. It would be fair to say, that in terms of 'bombastic' brass libraries, Angry Brass Pro would sit near the top of the field with few competitors that can match its pure power. The raw recordings give a sense of true realism to mockups comparable to how custom, privately recorded libraries would be produced and something that is simply not available from any other major developers. The addition of Soloists to the arsenal gives users another layer of added sound options to bring any production or track to the next level. While this was primarily meant as a 'layer' library to be used in conjunction with ABP Ensembles or any other brass offering, the library can certainly stand on its own for solo passages.
If you are in need of bringing some massive brass instruments to your template, you can pick up the library which offers loyalty discounts for owners of other PS products and an intro pricing offer until March 24th. It is highly recommended to read the 'library limitations' section on the product page to view a full list of it's capabilities and see if it is right for you.
Facts
Angry Brass Pro Soloists is a 988 MB download with 4 separate NKI instruments and the library requires Native Instruments Kontakt 5.8.1 Full or later; it will NOT work with the free Kontakt Player.
Angry Brass Pro Soloists normally sells for $189.00 from Performance Samples
Demos of Angry Brass Pro Soloists by Performance Samples
<
Videos of Angry Brass Pro Soloists by Performance Samples
Contributor BenG reviews Angry Brass Pro Soloists by Performance Samples
"Once again, Performance Samples delivers with Angry Brass Pro Soloists which boasts an absolutely massive sound, amazing playability and innovative approach, specifically designed for solos, layering or any track in need of some serious punch."