Quick Look: Tina Guo Vol. 2 by Cinesamples
Cinesamples and Tina Guo team up for a sequel! For this library, the developer brings a new set of solo cello samples touting true-legatos and addition articulations. Captured using the same instrument and microphones as her original library in the world-famous MGM Scoring Stage in Los Angeles.
Jump to the Videos of Tina Guo Vol. 2 by Cinesamples
Jump to the Demos of Tina Guo Vol. 2 by Cinesamples
Originally published January 10, 2019
Quick Look: Tina Guo Vol. 2 by Cinesamples
Tina Guo Vol. 2 is hailed as an expansion of the original Tina Guo Acoustic Cello Legato library although I would argue that the Vol 2 instrument can stand on its own. Tina Guo Vol. 2 utilizes the same legato recording and programming techniques Cinemsamples used for the first library. With the new Vol 2 instrument, the developer focused on an ARCO performance patch that doesn't have the weighty, passionate vibrato that the first library did.
Tina Guo Vol. 2 normally sells for $99.00 from Cinesamples
In my opinion, this is a big plus as the baked-in heavy vibrato was my main critique of the first library. There are many times I pull up the Tina Guo Vol 1 to start sketching out parts but found it wouldn't fit into a composition because of the vibrato. For this reason, I think I will be turning to the Vol 2 library first when sketching in the future.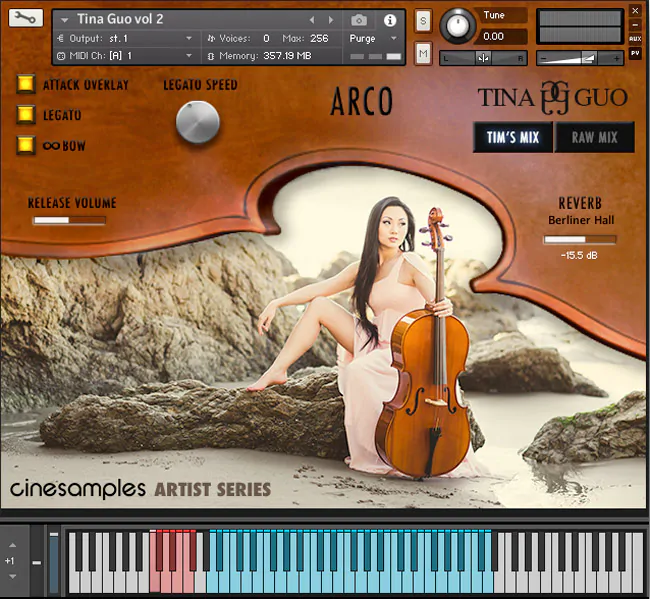 Tina Guo Vol 2 Arco nki Interface
Tina Guo Vol 2 also comes with a collection of "Mini Phrase & FX" which are full of exciting possibilities. With the phrases, you have options for selecting Root and Maj/Minor key sample sets via keyswitches. There is also a sample set of "non-tonal" samples. The additional NKIs for the Mini Phrases and FX has some Granular playback controls although they are a little limited in just how much you can use the samples to create granular synthesis so I am thinking of them as bonus patches.
If you want to learn more about a fun little granular synthesis instrument check out a review of Time Drops by Fluffy audio.
In this Quick Look video, I share my experience opening up the library for the first time to hear playback and check out some functionality. For complete details of Tina Guo Vol 2 or more information check out the official videos below or head over to the developer's product page.
Tina Guo Vol. 2 sells for $99.00 from Cinesamples
Facts
Tina Guo Vol. 2 is a Solo Cello sample set that was recorded on the MGM Scoring Stage.
The library comes with Legato samples and speed controls as well as a nice collection of articulations including spiccato, marcato, harmonics, sul ponticello, and vibrato pizzicato triggered via key switches.
The library also comes with Bow control, Release Volume control and the Mod Wheel controls the dynamic level of the instrument.
Tina Guo Vol. 2 is a Kontakt Player instrument compatible with both the FULL & FREE version of Kontakt 5.6.8+.
Tina Guo Vol. 2 normally sells for $99.00 from Cinesamples
Demos of Tina Guo Vol. 2 by Cinesamples
Videos of Tina Guo Vol. 2 by Cinesamples