UVI update Shade to v1.1, new features, presets & usability enhancements
News from UVI – new update to the powerful Shade Creative Filter and Effects Modulation EQ plugin announced. Details in the official press release below.
Paris, October 21st, 2020 – UVI update Shade to v1.1, adding new features, factory presets, usability enhancements, and more. Integrating community feedback and feature requests, Shade now includes Band Solo for all EQ filter types, a Global Limiter to prevent signal spikes, and an all-new Preferences panel. Additional usability improvements include exposing the Sidechain input in the spectrum analyzer, and allowing peak and shelf filters to be created instantly by click-dragging the main curve. The update also includes 25 new factory presets, and a number of under-the-hood enhancements. Shade 1.1 is free for all users and available immediately through UVI Portal or the My Products page at UVI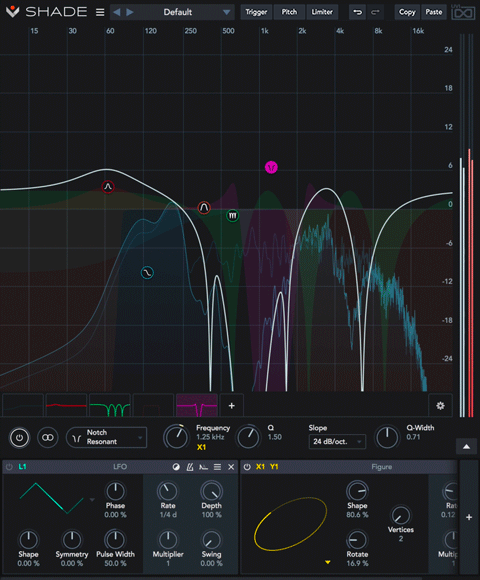 UVI Shade is a creative filter, mixing, and EQ tool with 35 shapes including transparent digital, analog- modeled, and multi-resonant, a powerful drag-n-drop modulation system with 9 types including LFO, Follower, Figure, MSEG, Spread, Envelope, Macro, and XY, with one-to-many and many-to- one targeting and cross-modulation, fully-multichannel filters and modulators, dynamic effects with sidechain, customizable envelope triggering, low CPU usage, zero latency processing, multiselection editing, resizable UI, and a lightning-fast workflow. Shade is available now at an introductory price of $79 / 79€ through October 31st (regularly $129 / 129€).
Shade is compatible with current versions of all major DAWs on both Mac and Windows platforms (VST, AU, and AAX). A single license includes 3 activations that can be used on any combination of individual computer systems or iLok keys. A free 15-day trial is available on uvi.net.
PRICING AND INFORMATION:
Shade is available immediately at a special introductory price of $79 / 79€ through October 31st, 2020 (regularly $129 / 129€)
For all details on Shade update visit UVI