UVI release PULSAR, a new Expansion for Falcon
There was an error retrieving the YouTube video ID for the url you entered, please verify that the url is correct.
Just got word that a new Falcon expansion has dropped from UVI: Pulsar!
This expansion of "deep and futuristic electronic sounds" is available for €39 at UVI.
All details at the official page or visit UVI for details.
UVI RELEASES PULSAR, A NEW EXPANSION FOR FALCON
UVI releases Pulsar, a new Falcon expansion delivering deep and futuristic electronic sounds, available now for $39|39€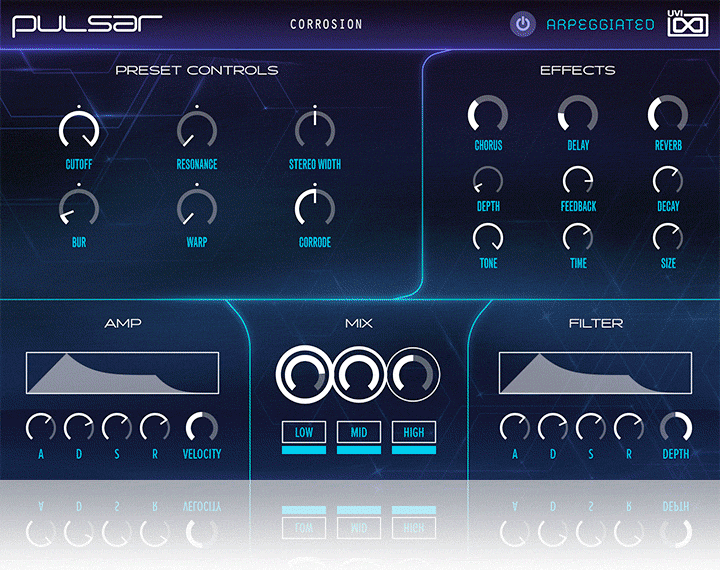 Paris, February 12th, 2019 – UVI releases Pulsar, a new expansion for Falcon delivering 143 deep and futuristic patches from sound designers Richard Gale and Carlo de Gregorio. From flowing analog-inspired leads to immersive granular soundscapes, Pulsar extends Falcon with a wide range of both foundational and charactered electronic sounds rich with detail and expression.
Presets are arranged in 8 categories including atmospheres, bass, effects, leads, pads, plucks, sequenced and arpeggiated. Pulsar is available now for $39/39€. All of Pulsar's presets are completely editable, making them equally useful as starting points or destinations. Extensive pre-mapped macros provide clear modulation options and easy automation control tailored specifically to each patch. Sounds can be quickly layered, tweaked and animated providing endless creative potential.
Pulsar leverages the advanced synthesis capabilities and software architecture of Falcon, with 15 oscillators, over 80 effects and a fast and intuitive interface that easily handles both basic tasks and deep instrument design. All presets have been programmed with macros which provide the user with easy access to the key parameters of each patch.
These may be controlled via MIDI, OSC, host automation and Lua scripting, allowing for easy customization and expressive performance capabilities. Pulsar requires UVI Falcon. Falcon offers native 64-bit operation as a stand-alone application and is available as a plug-in supporting all popular formats on both Mac and Windows. Pulsar supports simultaneous authorization on up to 3 computers or iLok keys.
PRICING AND AVAILABILITY: Pulsar is available immediately for $39 / 39€ from UVI