UVI has release PX P10 Synth Based on the Ultra-Rare Prophet-10
UVI has release  PX P10, a new hybrid Synth Based on the Ultra-Rare Prophet-10
"UVI launches PX P10, the newest Prototype Series instrument, inspired by a 10-voice dual-keybed analog synthesizer"
PX P10 is on a special introductory price of $49/49€ (regularly $79/79€) till Nov 11 at UVI.
Official details from the developer below.
UVI RELEASES PX P10, A NEW INSTRUMENT BASED ON AN ULTRA-RARE ANALOG SYNTHESIZER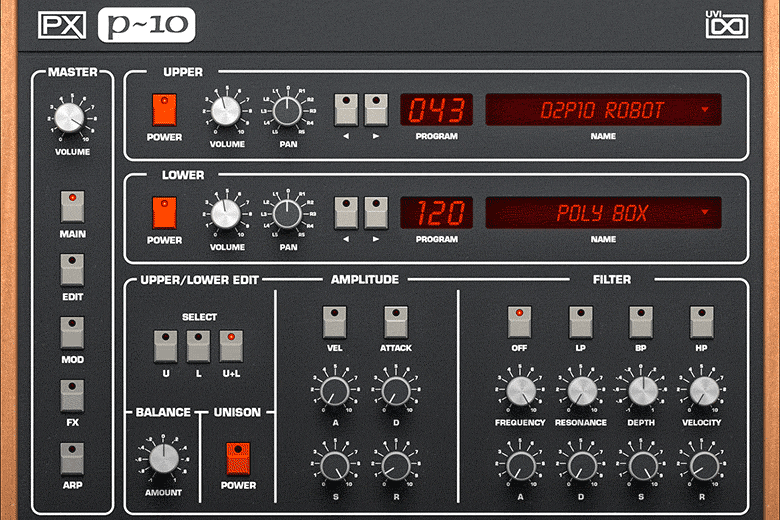 Paris, November 6th, 2019 – UVI releases the next installment in their Prototype Series, PX P10. Based on an iconic and extremely rare dual-keybed 10-voice analog synth originally released in 1981. Essentially two version-5 synthesizers, the version-10 allows its dual 5-voice engines to be stacked in unison for an exceptionally rich analog sound. PX P10 is available through November 11th, 2019 at a special introductory price of $49/49€ (regularly $79/79€).
While not the first in this mythical series to be released, the version-10 was the original prototype of what would become the version-5 and didn't see its own commercial release for several years. Giants still, both were revolutionary as the first fully-programmable polyphonic synthesizers with preset storage, their voices would help shape music and motion picture soundtracks throughout the '80s and beyond.
After a long journey, extensive restoration, sound design and recording, UVI are proud to present PX P10. Including over 300 presets, 188 layers, and over 30,000 samples, PX P10 gives you uncompromising access to the huge and influential analog sound of this iconic synth. Custom-designed presets are available in a wide range of flavors from inspired '80s classics through to modern genres, while a dual-engine design allows you to freely explore and layer sounds including the hardware's raw waveforms. Every base sound in PX P10 was recorded with and without the unison enabled, allowing you to instantly switch between them and create thick and dynamic analog tones that would have been impossible on the original hardware.
All presets are fully-editable by way of 2 layers each with discrete amplitude ADSR, multimode filter with ADSR, Unison switch, voicing, pitch, stereo controls, modwheel mapping, step and LFO modulators and an arpeggiator, and finally by way of a featured effect section including 3-band EQ, drive, Thorus, ensemble, Phasor, Delay and Sparkverb.
PX P10 offers native 64-bit standalone operation by way of Falcon or the free UVI Workstation, providing comprehensive support for all modern DAWs and simultaneous authorization on up to 3 computers or iLok keys.
For all details visit the official PX P10 page at UVI
---

Each week we round up on the new releases and special offers that make our radar on the Deal Compressor Page.
See the links, promo codes & updated FREEbies list here
---