Synclavier Digital's Synclavier Go! iPad now Version 1.3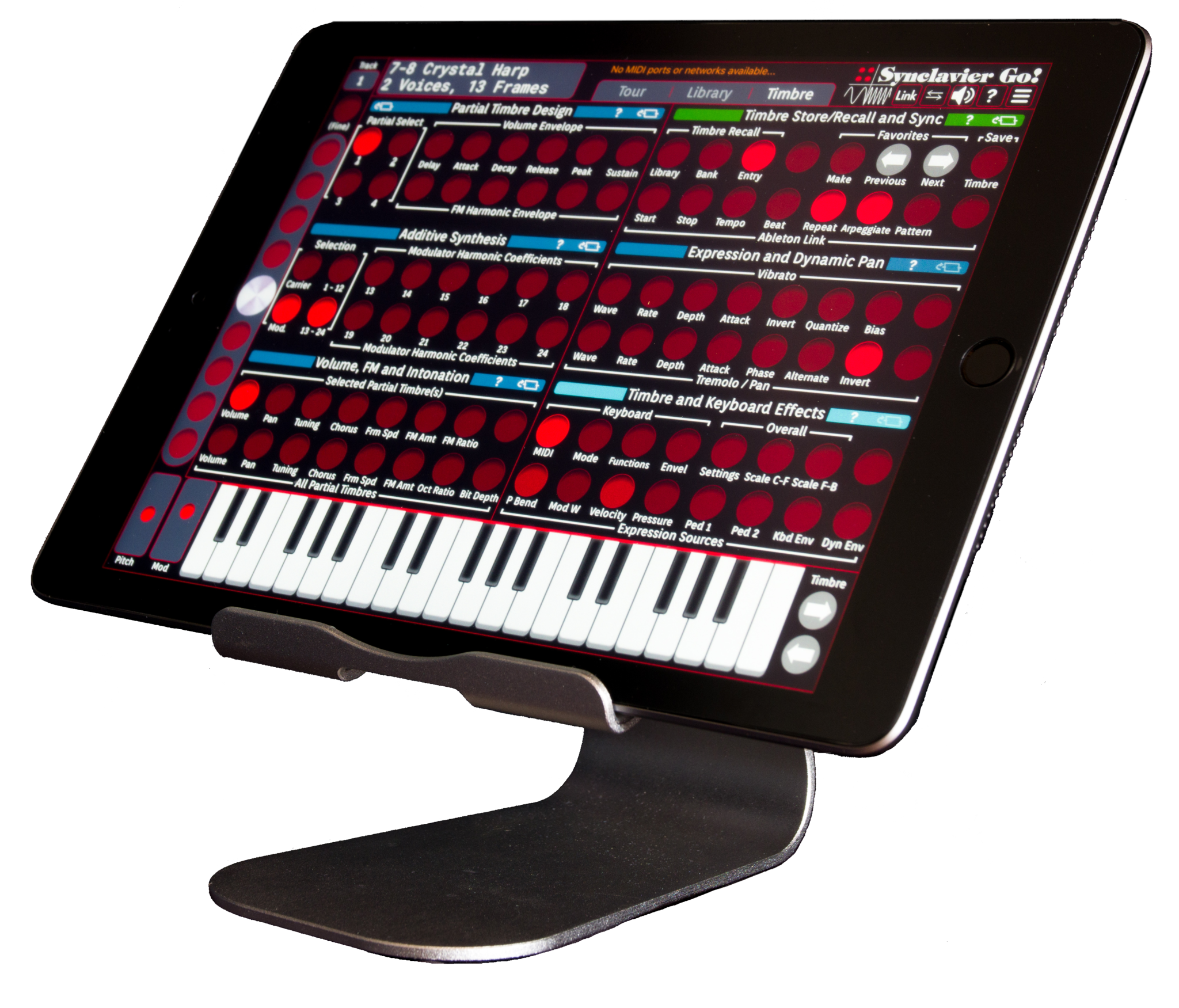 NOVA SCOTIA, CANADA: launched last year to widespread critical acclaim at The 2019 NAMM Show, Synclavier Digital is proud to announce continued advancement of Synclavier Go! — its innovative iPad instrument app directly descended from the codebase of New England Digital's seminal Synclavier® II Digital Synthesizer, spearheaded by original co-inventor Cameron Warner Jones as a faithful recreation of the high-flying hit-making mega machine — at an even more pocket-friendly price for Version 1.30 (with welcomed AUv3 client capability, Soundfile support, and more), available as of March 12…
https://www.youtube.com/watch?v=XbMtLBmfzzg
"Part of my decision to embark on development of an iPad version was to introduce my instrument to a wider audience," asserts Cameron Warner Jones, justifying faithfully recreating the seriously-priced seminal Synclavier® II Digital Synthesizer secured by a privileged few — forever stamping its influence on music technology throughout a lengthy lifespan, ever evolving from its early Eighties entrance to an enforced exit as the cutting edge eventually became more mainstream — at a much more pocket-friendly price on Apple's all-conquering tablet computer. Continues Cameron Warner Jones: "In this vein, we have decided to drop the price to $19.99 USD for the time being. We want as many people as possible to be given the opportunity to own a world-class instrument. If we can inspire the next Stevie Wonder or Suzanne Ciani, we have achieved our aim. And if there are price concerns with Synclavier Go! then we hope that this $10.00 USD reduction will mean more young, aspiring musicians will now have access to this professional music-making tool."
That said, Synclavier Go! is ever evolving — just like the trailblazing Synclavier® II Digital Synthesizer from which it directly descends. November 2019 saw Synclavier Digital duly adding multi-track MIDI (Musical Instrument Digital Interface) functionality and MPE (MIDI Polyphonic Expression) support to its innovative iPad instrument app. As such, many factory presets simply sound better by making use of the extra expression provided by the likes of ROLI's multi-award- winning, next-generation Seaboard RISE MIDI controller or Roger Linn Design's LinnStrument expressive MIDI controller. Come to think of it, the sheer quantity and quality of factory presets available as part of the Synclavier Go! app almost beggars belief, with over 1,000 diverse and emotional Timbres from over four decades of cutting-edge sound design quite literally at anyone's fingertips!
Further advancement of Synclavier Go! comes courtesy of adding AUv3 client capability to Version 1.30 — truly a game-changer! It is now possible to load an iPad-compatible DAW (Digital Audio Workstation) — such as Apple's own GarageBand, Blip Interactive's NanoStudio 2, or Steinberg's Cubasis 3 — and insert multiple instances of Synclavier Go! as AUv3 clients, making it a much more appealing app in itself. Ultimately, users can play and record Synclavier Go!, mix it with other instruments, add inline effects, swap sounds in and out of the mix, and modify compositions with ease… and all from within a single app. All settings are recalled when saving a project in the DAW and loading it up again at a later date. It is an amazing environment to work in — far from being bogged down in the same way that weighty Mac- or PC-based DAWs often are. And, of course, it is more cost effective — so much so that maybe the 'Twenties' will be the decade which will witness a hit record realised on little more than an iPad and a MIDI keyboard.
"Synclavier Go! was already a very capable app, but by adding the ability to load Soundfiles to Partials it's hard to imagine that there can be a more capable digital synthesizer on any platform — be it a computer plug-in or hardware device, let alone an iPad." So says Synclavier Digital Marketing Manager Craig Phillips, proudly introducing another standout Synclavier Go! feature that is new to Version 1.30, before adding: "And with the added portability and price point of an iPad application, it's simply stunning!"
Synclavier Go!'s interface is necessarily deep with a steep learning curve by association. And yet once climbed it is highly rewarding. Readily going against the grain of today's loop-based soundalikes, skilled operators of Synclavier Go! can creatively manipulate existing Timbre presets to quickly create new ones. On that very note, samples — Soundfiles in original 'Synclavier-speak' — can now be mixed into a Timbre to add richness and excitement to any sound. Samples can be loaded by Synclavier Go! users through iCloud with support for many formats, including AAC, ALAC, CAF, FLAC, and MP3 at various bit-depths and sample rates. Ready to go is a carefully curated collection of 116 original New England Digital-era Soundfiles in studio-quality 24-bit/48kHz lossless format, alongside a new Featured Timbre Artists library by sound designers Indie Moon, two Parisian singers specialising in melodic modern synth-pop as huge fans of Eighties electronic music.
Meanwhile, many of the same features available to Synclavier Go!'s additive synthesis sounds are available when working with Soundfiles — such as FM modulation, Tremolo, Vibrato, and Chorus — so sound design possibilities are seemingly endless as a result! Enhancing Eighties-era Synclavier® offerings with world-beating Soundfile capabilities could cost owners some serious money, so it is testament to the primitive computing power of the time that the necessarily lean algorithms used to process those samples still sound stellar. Indeed, it is those same algorithms at the heart of Synclavier Go! that lend the innovative iPad instrument app audacious power. Put it this way: the number of voices that can be played simultaneously more than adequately exceeds the amount of fingers that can play (or touch) the keyboard at any given time. This still holds true with Timbres that are fully loaded with Soundfiles and replete with effects! Splitting Soundfiles across keyboard ranges permit poly-sampled instrument usage to achieve more realistic-sounding results, while dynamic envelopes can also be applied, for instance, to set louder samples to greater keyboard pressures — perfect for working with today's traction-gaining MPE control surfaces.
So, while Synclavier Go! was already impressive in its previous incarnation (including InterApp and InterDevice audio support, AudioBus 3 and Ableton Link support, and — most recently — multi-track MIDI functionality and MPE support), thanks to the timely introduction of Version 1.30, seminal Synclavier® II Digital Synthesizer co-inventor Cameron Warner Jones' 'Twenties' instrument's introduction to a wider audience clearly continues to march to the beat of its own drum… do they need to know that the ominous gongs opening Michael Jackson's 1983 chart-topping 'Beat It' introduced the wider world to a stunning Synclavier® II Digital Synthesizer preset in all its ear-opening glory? Not necessarily. After all, should a hit record end up being realised on little more than an iPad and a MIDI keyboard anytime soon then it is likely to sound very different to those made with a little help from the original high-flying hit-making mega machine — more than likely musically no less impressive if skilled operation of Synclavier Go! is involved, and at a fraction of the purchase price of the seminal Synclavier® II Digital Synthesizer secured by a privileged few back in its hardware-happy heyday!