Orange Tree Samples has released "The Famous E Electric Piano".
Orange Tree Samples has released "The Famous E Electric Piano". The Famous E Electric Piano is powered by the free Kontakt Player and listed on a special introductory price of $159 until July 24th, 2020 with a regular price of $179.00
Official press release from Orange Tree Samples below.
SANTA ROSA, CALIFORNIA (July 10, 2020) — Orange Tree Samples releases The Famous E Electric Piano, an electric piano sample library powered by Native Instruments' Kontakt Player.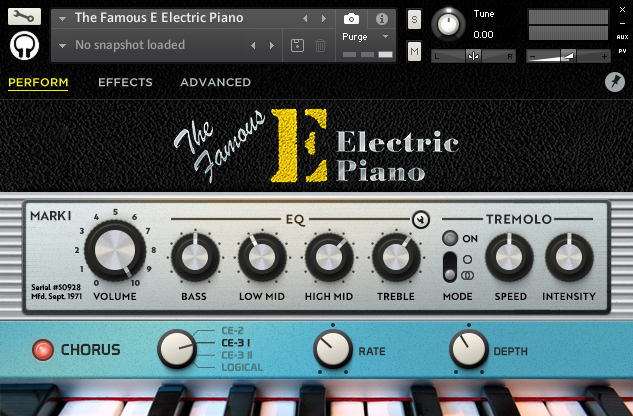 There was one electric piano that was particularly in demand in the LA studio scene in the
'80s. It was known as the "E" among producers and players, a reference to the letter "E"
that was stenciled on its case by Leeds Musical Instrument Rentals, to distinguish it from
the other electric pianos in their collection. The "E" electric piano has been featured in
many hit songs and albums, and for a good reason: its tone has a very clear, defined low
end and a beautiful, bell-like tone in the register an octave above middle C.
Until now, the "E" model electric piano has never been sampled before.
In 2015, George Mamalakis, performing Jazz pianist and owner of the "E" electric piano,
decided to undertake creating a virtual recreation of the "E". With the guidance of Jay
Graydon, producer, recording engineer, composer, and recording artist, George began
the arduous process of sampling the "E" electric piano. Each key was sampled with 18
velocity layers, recording each note's full, natural decay.
As of 2017, Orange Tree Samples has been working with George and Jay to develop the
playable instrument using the Kontakt platform. Thanks to Kontakt's powerful scripting
engine, many options to customize the tone of the electric piano are included, such as an
authentic model of the instrument's built-in tremolo, multiple options for chorus effects
based on custom DSP, and a modular effects rack.
Orange Tree Samples is excited to present the resulting virtual recreation of the
instrument, The Famous E Electric Piano, so that you too can enjoy the experience of
playing the "E" electric piano.
Key features:
• Over 1,300 samples recorded at 96kHz, 24-bit, totaling 7.0 GB (compressed to 3.26
GB using Kontakt's lossless NCW format).
• Over 70 production-ready factory presets created by Jay Graydon, George
Mamalakis, Greg Schlaepfer, and Chris Poehler.
• Bespoke chorus and tremolo effects.
• Modular effects system with EQ, phaser, delay, algorithmic reverb, IR-based reverb,
and more. The IR-based reverb features four reverb units, totaling over 500 reverb
presets.
• Smart tremolo attack ensures that the tremolo starts at its strongest point, giving you
clear note attacks.
For all details on "The Famous E Electric Piano" visit Orange Tree Samples